Glencore to Invest $950 Million Upgrading Zambia Copper Mine
by and
Investment to extend Mopani mine life to be made by 2018

Number of job cuts due to 18-month shutdown not finalized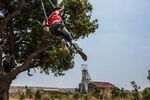 Glencore Plc plans to invest $950 million over three years to expand operations at its Mopani Copper Mines as part of a plan to refurbish assets and lower production costs in Zambia.
The Swiss mining company last month announced it's halting production for 18 months in Zambia, Africa's second-largest copper producer, in response to a drop in prices for the red metal.
"We continue to employ over 10,000 people at Mopani, and will be investing $950 million in site expansions and upgrades to extend the life of mine," Baar, Switzerland-based Glencore said Wednesday in an e-mailed response to questions.
Copper production costs at Mopani, the previously state-owned mines in which Glencore purchased a majority stake in 2000, are more than $2.50 a pound. Glencore has said the upgrade will reduce the operation's costs to $1.70 per pound, below the current spot price of about $2.34 a pound.
Mopani employs more workers than any other private business in Zambia and its temporary shutdown will halt about 26 percent of the country's copper output. In addition to the 10,000 people employed by Glencore, another 10,000 work for mining contractors servicing the operations.
Finalizing Cuts
Glencore has said it hasn't finalized the number of jobs that will be permanently cut at Mopani. Zambia's Labour Minister Fackson Shamenda said last month that Glencore plans to cut 3,800 jobs. It isn't known how many of the 10,000 workers employed by contractors will also lose their jobs.
Glencore isn't the only mining company cutting copper production in Zambia. Vedanta Resources Plc's Konkola Copper Mines unit said Sept. 4 it sent 133 workers on "recess" as it reviewed its Nchanga operations, while CNMC Luanshya Copper Mines Plc said last month it was suspending operations at its Baluba mine. Workers not involved in care and maintenance operations will go on leave, the company said.

Mining companies are cutting copper production after the price of the metal fell 18 percent this year as China's slowing economy cut demand for pipes, wiring and other building materials. Copper hit a six-year low of $2.20 a pound in August, down from a record of about $4.66 in 2011.
Glencore shares declined 2.9 percent to 112.10 pence as of 8:41 a.m. in London. The stock has dropped more than 60 percent this year because of the rout in metals prices and concerns about the company's $30 billion debt load.
Before it's here, it's on the Bloomberg Terminal.
LEARN MORE