Fiat Chrysler Posts Surprise Quarterly Loss on Recall Costs
by and
Net income hurt as carmaker sets aside 761 million euros

Manufacturer keeps 2015 earnings forecasts, sees narrower debt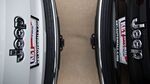 Fiat Chrysler Automobiles NV reported an unexpected third-quarter net loss after one-time charges stemming from handling a U.S. recall wiped out earnings gains from the company's Italian-made Jeep sport utility vehicle.
The loss totaled 306 million euros ($339 million) versus net income of 174 million euros a year earlier, the London-based carmaker said Wednesday in a statement. Analysts surveyed by Bloomberg had estimated profit would rise. Adjusted earnings before interest and taxes rose to 1.3 billion euros from 968 million euros in the 2014 period as revenue increased 17 percent to 27.5 billion euros.
Chief Executive Officer Sergio Marchionne, who created FCA last year from the merger of Italy's Fiat and U.S.-based Chrysler, is spinning off the Ferrari supercar division to help finance global expansion of the Jeep, Alfa Romeo and Maserati brands. The manufacturer set aside 761 million euros in the quarter for "estimated future recall campaign costs" in North America, where U.S. regulators ordered it in July to buy back vehicles.
Marchionne, 63, has also pushed for more car-industry consolidation to share technology investments and boost returns as regulatory costs rise after the Volkswagen AG diesel-emissions scandal. The auto industry will "collectively pay the price" for the VW crisis as emissions regulations become "exponentially" more expensive, Marchionne said in an interview last week. 
VW's issues have made his consolidation thesis "more valid," Marchionne said Wednesday on an earnings conference call. The CEO, who has been rebuffed by General Motors Co. and Ford Motor Co., said he has spoken with automakers who share his views on the need for companies to merge to spread costs.
"We're not lunatics here," he said. "There are a number of people who are in this business who understand the implications. You just have to look at their numbers. That reality is shared not just by me but by some others. Whether they are the ideal people with whom to strike something or not is a separate question."
Fiat Chrysler dropped 4.5 percent to $14.72 at the close in New York. The stock has gained 27 percent this year.
Fine, Writedown
In July, Fiat Chrysler agreed to pay a record $105 million penalty after a U.S.. government investigation into how the company handled 23 recalls involving more than 11 million cars and trucks.
Third-quarter earnings were also reduced by a writedown on inventories for vehicles damaged in a port explosion in China. Fiat Chrysler expects to recover those costs from insurance.
The carmaker reiterated a target for adjusted Ebit of at least 4.5 billion euros this year and outlined a narrower forecast for net debt, saying the figure will fall to as low as 6.6 billion euros at the end of 2015, from a previous target of 7.5 billion euros, because of transactions related to the Ferrari IPO.
Marchionne said that the Ram truck brand has more room for growth and that the automaker is looking to add a large, truck-based SUV. Fiat Chrysler sold 127,542 Rams in the third quarter, more than triple the volume from five years earlier, according to KBB.com. Even with the increase, Ram has about 18 percent of the large-pickup segment, according to Autodata Corp., compared with Ford's 30 percent and GM's 32 percent.
"There are very few markets in the U.S. that can be characterized as oligopolies and that's one of them," he said. "I think we need to go out there and get our fair share of it."
Before it's here, it's on the Bloomberg Terminal.
LEARN MORE