Ferrari Predicts Profit Gain Ahead of Supercar Brand's Spinoff
by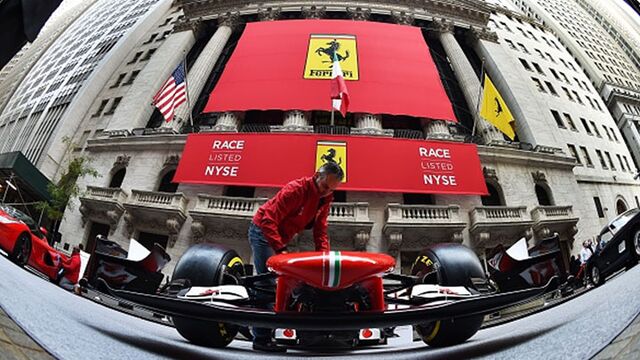 Ferrari NV, the supercar maker being spun off from Fiat Chrysler Automobiles NV, sees profit rising as much as 7.5 percent this year after reporting a 35 percent jump in the third quarter on higher sales of cars likes the California roadster.
Adjusted earnings before interest and taxes in the third quarter rose to 140 million euros ($155 million) from 104 million euros a year earlier, the Maranello, Italy-based company said on Wednesday. The growth was underpinned by a 21 percent increase in deliveries to 1,949 vehicles.
The company, which debuted on the New York Stock Exchange last week, predicted adjusted earnings before interest, taxes, depreciation and amortization for the full year in a range 725 million euros to 745 million euros, compared with 693 million euros in 2014. Sales are seen rising to 7,700 cars, including the limited-edition LaFerrari.
Fiat Chrysler sold a 10 percent stake in Ferrari in an initial public offering and is preparing to distribute the rest of its holding to its own investors early next year. The move raises money for Fiat to help finance a 48 billion-euro investment program focused on expanding the Jeep, Alfa Romeo and Maserati nameplates globally. In the process, Ferrari will become one of the few global auto brands lacking the backing of a major group.
Sergio Marchionne, Fiat Chrysler's chief executive officer and also Ferrari's chairman, has argued the supercar brand can thrive on its own because it's more of a luxury-goods company than an auto manufacturer. After an initial gain, Ferrari's shares have slipped, closing Tuesday at $53.85 down from the $55 on its first day of trading.
Following the spinoff, Piero Ferrari, the son of the brand's founder, plans to pool his 10 percent stake with the holding of the Agnelli family, Fiat's biggest shareholder, to lock up control of the supercar maker. Combined, the investors will control a majority of Ferrari's voting rights, thanks to a loyalty shareholder program put in place by Marchionne. The agreement all but rules out a takeover of Ferrari.
Before it's here, it's on the Bloomberg Terminal.
LEARN MORE