Fed Considers December Rate Rise, Sees 'Moderate' Expansion
Jeanna Smialek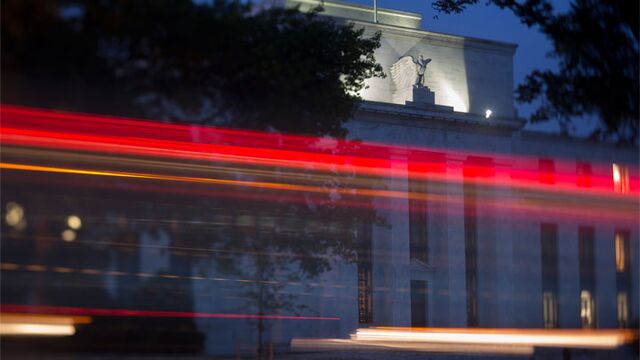 Federal Reserve policy makers said they will consider tightening policy at their next meeting in December, without making a commitment to act this year, as the economy continues to expand at a "moderate" pace.
Even with a slower pace of recent job gains, "labor market indicators, on balance, show that underutilization of labor resources has diminished since early this year," the Federal Open Market Committee said in a statement Wednesday following a two-day meeting in Washington.
The Fed removed a line from September's statement saying that global economic and financial developments "may restrain economic activity somewhat," saying Wednesday only that the central bank is monitoring the international situation. The committee also added a reference to the possibility of increasing the rate "at its next meeting" based on "realized and expected" progress in reaching goals.
"The Fed is clearly signaling that the default plan is to raise rates in December," said Dean Maki, chief economist at Point72 Asset Management in Stamford, Connecticut. "It signals that something needs to prevent them from hiking in December rather than that something needs to happen for them to raise."

Treasuries fell after the announcement as investors marked up the possibility of tightening this year. The yield on the benchmark 10-year note was at 2.09 percent at 3:30 p.m. in New York compared with 2.04 percent late Tuesday.
Data-Dependent
Chair Janet Yellen and her colleagues have been watching for more labor-market improvement and signs that inflation is rising toward their goal, despite headwinds from overseas, as they debate the first rate increase since 2006.
At last month's meeting, 13 of 17 officials still expected a hike this year provided the economy grew as forecast.
Yellen will address the House Financial Services Committee on Nov. 4 on regulatory matters, though members may ask questions that include her outlook for the economy and policy.
"This opens the door a bit wider to a December rate hike, if the data cooperate," said Stuart Hoffman, chief economist at PNC Financial Services Group Inc. in Pittsburgh.
The FOMC vote was 9-1, as Richmond Fed President Jeffrey Lacker dissented for a second straight meeting, again calling for a quarter percentage-point rate increase.
Held Steady
The assessment of the labor market said the pace of job gains "slowed and the unemployment rate held steady," in a downgrade from last month's language citing "solid job gains and declining unemployment." The U.S. added 142,000 jobs in September, less than the 200,000 economists in a Bloomberg survey had forecast and well below the 205,000 average for the first eight months of 2015.
Household spending and business fixed investment have been "increasing at solid rates in recent months," the Fed said, compared with September's language that those indicators have "been increasing moderately."
The Fed reiterated that it expects inflation to rise gradually toward its 2 percent goal in the medium term.
Officials have held the benchmark overnight federal funds rate target in a zero-to-0.25 percent range since December 2008.
Investors before Wednesday's statement saw a roughly 35 percent chance of a move in December, as of 11:20 a.m. in Washington, based on pricing in fed funds futures that assumes a
0.375 percent effective funds rate after liftoff. That shifted to around 46 percent after investors digested the statement.
Low Inflation
Subdued inflation has been a hurdle for the central bank as it moves closer to a rate increase. Even as the jobless level has fallen to 5.1 percent, close to policy makers' 4.9 percent estimate of full employment, inflation has remained well below the committee's 2 percent goal. The Fed's preferred gauge of prices rose by just 0.3 percent in the 12 months through August.
In contrast, continued labor-market improvement has been a bright spot for the Fed as it looks to fulfill its dual mandate of maximum employment and stable prices.
Several important readings on the economy will be released later this week, including the initial estimate of third-quarter growth on Thursday. Economists surveyed by Bloomberg News estimated expansion slowed to a 1.6 percent annualized pace, from 3.9 percent in the previous three months.
The global outlook has proved another stumbling point for policy makers as they assess if the U.S. economy is strong enough to handle a rate rise.
China Slowdown
A slowdown in China has helped to push down commodity prices, which is contributing to low inflation, while still-subdued economic performance in trading partners including Japan and the euro area have driven up the value of the dollar and cut into U.S. exports.
"They seem to have really stepped back from the statement in September about the global economic and financial developments," said Hoffman. "That's a major step back from the degree of concern that would have an impact on the U.S. economy. Now they are just monitoring it."
Before it's here, it's on the Bloomberg Terminal.
LEARN MORE