ECB's Coeure Says Low Inflation May Warrant More Stimulus
by
Policy makers have discussed lowering minus 0.2% deposit rate

Inflation has held near zero, below ECB goal of close to 2%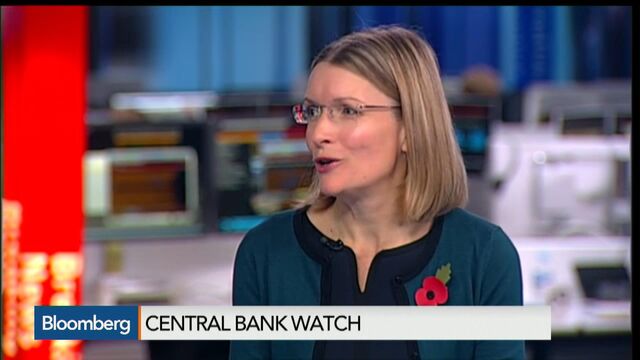 The European Central Bank may need to take additional measures to help boost prices with inflation failing to rebound as fast as policy makers had expected, Executive Board member Benoit Coeure said.
The risks have increased that inflation will remain below the ECB's goal of close to 2 percent and that warrants vigilance from policy makers, Coeure said in a speech in Mexico City on Tuesday. Discussions have already started on the next steps to deal with the matter, including consideration of whether the deposit rate could be lowered from its current minus 0.2 percent, he said.
"If we see a risk that inflation would go back to 2 percent much less quickly or in a much more sluggish way than previously expected, that would imply that de facto real interest rates at this level would be higher," Coeure said. Adjusting the deposit rate is "an open discussion, but it's a discussion that has started," he said.
ECB President Mario Draghi said on Thursday that policy makers would reexamine the scope of their quantitative-easing plan in December in light of new economic forecasts. He also raised the prospect of yet another cut in the deposit rate, reneging on a year-old pledge that rates had reached the lower bound and prompting Deutsche Bank AG and BNP Paribas SA to predict a move to minus 0.3 percent from minus 0.2 percent.
Deposit Rate
The prospect of a further reduction has helped push down yields on short-dated debt as traders anticipate a lower deposit rate would increase the number of bonds available for the ECB to buy. The ECB has ruled out buying bonds with yields below its deposit rate, which officials cut to its current level in September 2014.
There have been "lively" discussions within the ECB about expanding asset purchases, Coeure said. Those talks will probably continue, with the possibility of changes to the size, makeup or time horizon for buying, and the central bank has a full toolbox it can use to try to revive inflation, he said. While growth is coming back, it remains "quite low," and nations need to work to boost their long-term expansion rates, he said.
Efforts by the ECB to reflate growth in the 19-nation region haven't fixed economic problems, Governing Council member Ilmars Rimsevics said at a conference in Riga on Wednesday. Excess liquidity created by refinancing loans and large-scale asset purchases has remained in the banking system and hasn't reached companies and households, he said.
In response to an audience question, Coeure said the ECB isn't in a "tit for tat" where it would need to adjust interest rates in response to a Federal Reserve increase. Policy makers will do what's best for the economies that share the euro, he said.
Before it's here, it's on the Bloomberg Terminal.
LEARN MORE