Deutsche Bank Plans to Eliminate Dividend for Two Years in Overhaul
by and
Cryan targets higher CET1 ratio, aiming for 12.5% from 2018

Cost-income seen dropping to 65% by 2020 as previously planned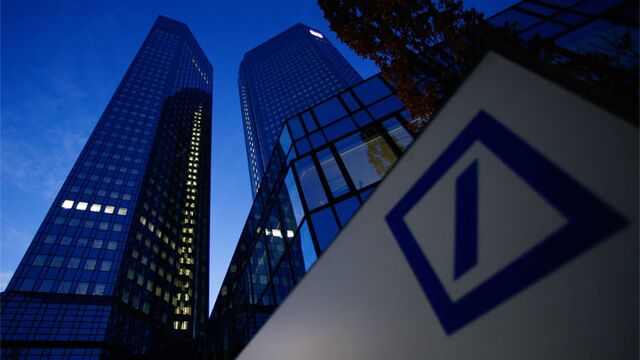 Deutsche Bank AG said it plans to suspend dividends for two years as co-Chief Executive Officer John Cryan seeks to improve capital levels and returns by cutting costs.
The bank, which has paid a dividend since Germany's postwar reconstruction, plans to recommend resuming payouts from fiscal year 2017, according to a statement late Wednesday in Frankfurt. The lender wants to lift its common equity Tier 1 ratio, a key measure of financial strength, to at least 12.5 percent by the end of 2018.
Cryan, 54, who took over from Anshu Jain in July, is under pressure to lower expenses, boost capital buffers and reverse a share slump that has made Deutsche Bank the worst-valued stock among global lenders. He is scheduled to present his strategy for the firm on Thursday after some investors criticized a plan his predecessor presented in April.
'Really Tough'
"I'm expecting Cryan to be really tough on costs because frankly this is the only way to improve the margin of the company," said Sebastien Pigeon, a Chicago-based analyst covering European financial firms at Morningstar Inc. "More capital and cutting costs, this is what needs to be done unfortunately. And it's going to be painful for the employees."
One such step emerged Wednesday: The firm is closing offices in Chile and Peru and transferring some Brazil operations, such as equity and fixed-income trading, to New York as part of its restructuring, people familiar with the decision said. The company employed about 400 people in those countries last year, mainly in Brazil, according to its 2014 financial statements.
Deutsche Bank shares closed at 27.48 euros on Wednesday, up 0.4 percent. They have gained about 10 percent this year after slumping 24 percent in 2014.

Under Cryan's revamp, the bank still targets a cost-income ratio of 65 percent in 2020, down from 70 percent in 2018, Deutsche Bank said on Wednesday. Costs swallowed up 84 percent of Deutsche Bank's revenue in the first half.
The bank said annual non-interest expenses will be less than 22 billion euros ($24 billion) by 2018, when excluding litigation and several overhaul costs. Expenses including those factors stood at 27.7 billion euros last year, company filings show.
Deutsche Bank said earlier this month that it expects to book a 5.8 billion-euro writedown as tougher capital requirements reduce the value of its investment bank, sparking the largest quarterly loss in at least a decade. At the time, it said it also would consider cutting the dividend for this year.
While investors await more detail from Cryan on his plan for Deutsche Bank, the move to withhold the dividend longer shows he may be more willing than prior leaders to push through necessary changes, said Roy Smith, a finance professor at New York University's Stern School of Business.
Announcements by his predecessors "have lacked credibility because they didn't want to admit that they couldn't make it in investment banking, or because cost-cutting in Europe is harder to do than elsewhere," Smith said. "But a dividend holiday truly gets attention, and may set Cryan apart from the rest as a doer."
Barclays Plans
Germany's largest lender isn't the only European bank seeking ways to shore up capital and cut costs. At Barclays Plc, new CEO Jes Staley said in a memo on Wednesday that he plans to continue a "necessary" transformation of the securities unit to focus on a "less-capital-intensive model."
Cryan is aiming for larger capital buffers under his overhaul. Jain's plan targeted a CET1 ratio of about 11 percent, compared with 11.4 percent at the end of June. The company said earlier this month that the ratio probably fell to about 11 percent at the end of September.
The median CET1 ratio of Europe's 24 biggest publicly-traded banks was 12 percent at the end of June, data compiled by Bloomberg show.
Before it's here, it's on the Bloomberg Terminal.
LEARN MORE