China Stocks Are Trouncing the World Again as Bubble Angst Fades
by
Margin debt, volumes are picking up as Shanghai shares advance

President Xi Jinping sees a market in `self-recovery' mode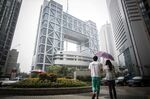 Less than five months after China's equity bubble burst, the Shanghai Composite Index is surging once again.
This month's 11 percent rebound is one of the biggest surprises in global markets after international money managers all but gave up on Chinese stocks in the wake of a $5 trillion crash, according to JPMorgan Chase & Co. What's even more remarkable is that the gains look like the result of buying from ordinary investors, rather than the government-run funds who sought to prop up prices during the rout.
Signs of improving confidence are everywhere. Margin debt is rising for the first time in five months, volumes have picked up and companies favored by individual investors are leading the rebound. While state-owned funds still influence the market, evidence of heavy intervention has dwindled as late-day rallies become less frequent and purchases by controlling shareholders shrink. The market seems to have entered a "self-recovery" phase, as President Xi Jinping described it in a speech late last month.
"The answer is yes -- it can stand on its own," said Adrian Mowat, the chief Asia and emerging markets equity strategist at JPMorgan in Hong Kong. "When you see a big fall in the market, you think 'Why would equity investors ever go back?' In our part of the world, we do get corrections in markets and some people look at them as opportunities to buy at better prices."

Just how long the gains will last is still a subject of fierce debate. While bulls point to increased stimulus from China's central bank and early signs of economic recovery, pessimists say current valuations are unjustified as corporate earnings shrink. Hao Hong, one of the few forecasters to call both the start and peak of China's last equity boom, predicts this one won't last.
"It's a bear-market rally," said Hong, the chief China strategist at Bocom International Holdings Co. "Sometimes a bear-market rally can be more ferocious than a bull-market rally."
What's clear is that a sense of normalcy has returned to the world's second-largest equity market after months of turmoil that rattled global investors. Foreigners have been adding to holdings through the Shanghai-Hong Kong exchange link for the past two weeks, while volatility in the benchmark index has eased to an almost four-month low.
Individual investors, who account for more than 80 percent of volumes in China, are also returning. The number of new stock traders tracked by the nation's clearing agency has increased for the past two weeks, while margin debt has climbed 14 percent this month to exceed 1 trillion yuan ($157 billion).
October Advance
Average daily volumes on Chinese exchanges have jumped 55 percent this month as money flowed into the ChiNext board for small-cap stocks, a favorite hunting ground for part-time investors. The Shanghai Composite's October gain is the biggest among benchmark indexes in emerging and developed markets after Germany and Greece. The Chinese gauge rose 0.4 percent on Thursday.
"People are willing to search for alpha now," said Alex Wong, a Hong Kong-based asset-management director at Ample Capital Ltd., which oversees about $150 million. "They aren't staying away totally like they had been in previous months."
While the Chinese state agency tasked with propping up the stock market declined to discuss its investments, indicators of intervention suggest buying has moderated. End-of-day spikes in the large-cap China 50 exchange-traded fund -- which analysts said were fueled by government-run funds last month -- are now becoming less common. The ETF's average gain in the final 45 minutes of trading shrank to 0.2 percent in October from 0.3 percent in September, a month when the market fell.
Government Role
Meanwhile, buying from corporate insiders and controlling shareholders -- many of which are run by the state -- has declined to the equivalent of $333 million over the past month from an average $2.7 billion over the previous two months, according to data compiled by Bloomberg.
"The government no longer heavy-handedly intervenes in the stock market," Wenjie Lu, a Shanghai-based strategist at UBS Group AG, said in an e-mail.
Of course, policy makers aren't giving the market free rein either. Major stockholders are still banned from selling shares and authorities have yet to lift a freeze on initial public offerings. At least 62 companies disclosed this month that China Securities Finance Corp., the state rescue fund, took a stake in their shares.
Risk Averse
Doubts remain about whether the market can sustain an advance on its own. While the median price-to-earnings ratio for mainland-listed shares has dropped to 60 from 108 in June, it's still the highest among the world's 10 biggest markets. About 69 percent of Chinese companies that reported third-quarter results so far have trailed analyst estimates, on pace for the biggest miss since 2009, data compiled by Bloomberg show.
"Chinese companies' earnings are not great," said Paul Chan, the Hong Kong-based chief investment officer for Asia excluding Japan at Invesco Ltd., which oversees $776 billion worldwide. "With all the uncertainties, why would you take risk?"
Optimists are counting on monetary stimulus to keep the rally going. In addition to lowering interest rates and banks' reserve requirements this month, the government has introduced targeted stimulus to the real estate and auto industries. Local gauges of manufacturing and services both improved in October.
"We do expect the market to post better gains for the rest of the year amid policy initiatives, including rate cuts," said Audrey Goh, a Singapore-based strategist at Standard Chartered Plc. "There are some signs of normalcy coming back."
Before it's here, it's on the Bloomberg Terminal.
LEARN MORE