Bus Terminal Replacement at $10 Billion Draws Doubters in N.J.
by
Senator Sarlo says estimates defy engineering guidelines

Port Authority Chairman Degnan questions 10-year timeline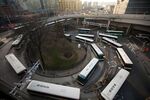 The $10 billion cost estimate to replace the world's busiest bus terminal may be overblown, according to the chairman of the Port Authority of New York and New Jersey.
John Degnan, Governor Chris Christie's appointee to the bi-state agency, told New Jersey lawmakers on Wednesday that there's no "reliable cost estimate" for building a new depot. It's likely to be less than $10 billion, he said, because plans introduced in March didn't take into account the value of the current midtown Manhattan location and the potential air rights, marketable to developers, for construction above a new terminal.
A capital plan to be introduced in December will include $170 million toward the project, an expenditure that may get authority approval early next year, Degnan said. That would be the first major funding toward replacement of the building, which has insufficient space and ventilation and is unequipped to process longer, heavier buses.
The authority, which operates New York City-area river crossings, major airports, ocean ports and bus and train infrastructure, voted Oct. 22 to solicit designs to replace the terminal, on Manhattan's West Side. The facility, overcrowded since 1966, accommodated 66 million passenger trips last year.
Senator Paul Sarlo, a Democrat from Wood-Ridge who is a professional engineer and licensed planner, said he applied several cost formulas and the project "should be all of $2 billion, in my eyes." He also disputed the estimated time frame of a decade.
"This number, I'm concerned, is -- one, it's scaring the public, and No. 2, it's scaring policy makers and elected officials," Sarlo said. "There's no reason why on this type of structure -- I've seen some of the renderings or conceptuals -- should take 10 years to build."
Degnan agreed, saying, "I am a skeptic."
The authority hasn't identified a funding source for the terminal. It also is an early favorite to lead construction of Gateway, a proposed $20 billion Amtrak project that includes new rail access beneath the Hudson River. Federal and state officials are negotiating that financing.
Before it's here, it's on the Bloomberg Terminal.
LEARN MORE