Buffalo Wild Wings Tumbles After Cutting Profit Forecast
By
Third-quarter profit, sales trailed analysts' estimates

Restaurant acquisitions, labor costs weighing on earnings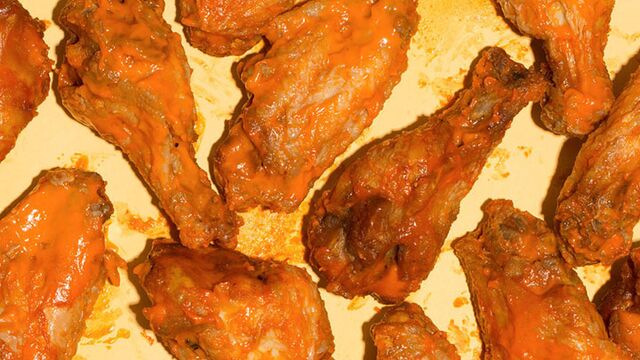 Buffalo Wild Wings Inc. shares dropped the most in more than four years after sales growth missed analysts' estimates and the chicken-wing chain cut its profit forecast.
The company now expects earnings to grow by a single-digit percentage this year, according to a statement on Wednesday. Buffalo Wild Wings had previously forecast a 13 percent increase. Third-quarter profit and revenue also missed analysts' projections.
Buffalo Wild Wings is acquiring 41 locations from franchisees, a move intended to speed up efforts to remodel the chain, but the strategy also is boosting expenses. The company, which has about 1,140 restaurants in total, is trying to get more technology, such as handheld server ordering systems and tabletop tablets, into stores faster. Higher labor costs also are weighing on profit, Buffalo Wild Wings said.
"We have seen wage inflation throughout the year," Chief Executive Officer Sally Smith said in an interview. "A lot of it has to do with competition and finding people and keeping people."
The stock dropped as much as 17 percent to $152.26 on Thursday, the biggest intraday decline since April 2010. Shares of the Minneapolis-based company had been up 2.2 percent this year, closing at $184.40 on Wednesday. Wingstop Inc. also fell, dropping as much as 5.9 percent to $24.
The push to purchase restaurants from independent owners puts Buffalo Wild Wings in contrast with fast-food rivals, which are generally trying to offload more stores to franchisees. Though owning locations outright can help chains move quickly and get more revenue, the strategy also brings higher costs and risks. Buffalo Wild Wings is now about 51 percent company-owned, Smith said.
The company is expanding, with plans to open 80 U.S. locations and 15 international ones in 2016. Buffalo Wild Wings will enter India for the first time next year, hoping to cash in on the expanding middle class.
"They like chicken, they like spicy foods, and there are sports," Smith said. "We think the brand will translate well."