business
Botswana Grants Asylum to Eritrean Football Team Defectors
Bloomberg News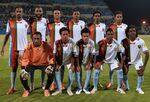 Botswana granted asylum to Eritrean football players who refused to return home after a World Cup soccer tournament qualification match in the southern African nation earlier this month, according to their lawyer.
The government will allow the 10 defectors to be moved to the Dukwi Refugee camp, in the country's east near the border with Zimbabwe, Dick Bayford said by phone on Wednesday. About half of the team's 24 players refused to board the flight home after playing a match on Oct. 13. Botswana's Security Minister Shaw Kgathi initially said they couldn't stay.
As many as 5,000 people a month are fleeing Eritrea because of human-rights abuses in the Horn of African country, which is ruled through repression and fear, Mike Smith, the United Nations-appointed chairman of the Commission of Inquiry on Human Rights in Eritrea, said in a statement in June. One of the main reasons people are leaving is because of the system of mandatory open-ended conscription in the army or public service in "harsh and inhumane conditions," according to the statement.
— With assistance by Mbongeni Mguni
Before it's here, it's on the Bloomberg Terminal.
LEARN MORE