Bond Market Rattled as Fed Revives Bets on 2015 Rate Increase
by and
Probability nears 50% for central bank's Dec. 2015 meeting

Likelihood had been about 37% before Wednesday announcement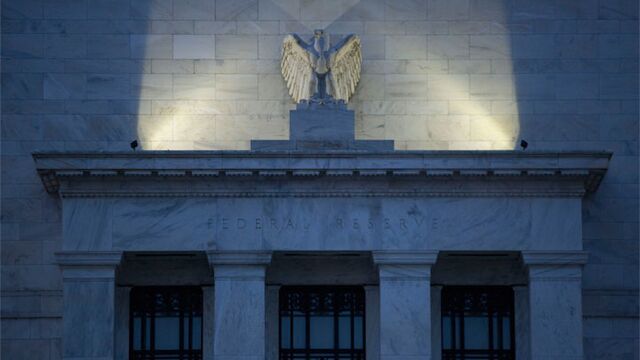 It just got a lot tougher for bond traders to rule out a Federal Reserve interest-rate increase in 2015.
The Fed's Wednesday statement validated the views of analysts at Goldman Sachs Group Inc. and BMO Capital Markets, who had raised concerns that investors were underestimating the chance of a liftoff by year-end.
Policy makers kept the central bank's target near zero and said they planned to assess whether to raise it when they meet next in December. The release prompted the biggest jump in two-year Treasury yields since March and pushed futures bets on a December Fed boost to the highest in a month. The extra yield investors demand to hold 30-year bonds instead of five-year notes dropped to the least in two months.
"The policy statement was very explicit in saying that the Federal Open Market Committee will consider raising rates in December," Ken Taubes, Pioneer Investment Management Inc.'s Boston-based head of U.S. investments, wrote in a note. "The Fed continues to see the U.S. economy growing at a moderate but steady pace."
Traders see a 48 percent chance the central bank will raise its benchmark rate at its next meeting, according to futures data compiled by Bloomberg. That's up from 37 percent in the minutes leading up to the Fed's release. The calculation assumes the effective fed funds rate averages 0.375 percent after the first increase, compared with the current zero-to-0.25 percent target range.

The U.S. two-year yield climbed one basis point, or 0.01 percentage point, to 0.72 percent as of 7:45 a.m. New York time, having risen eight basis points on Wednesday. The price of the 0.625 percent security due in September 2017 was at 99 26/32.
Benchmark 10-year yields were little changed at 2.11 percent. The yield gap between five- and 30-year bonds slipped to as low as 139 basis points, the lowest since Aug. 31.
Officials also removed from their statement a reference to global developments restraining economic activity.
"It's far more probable that they're going to hike than not" before the end of this year, said David Keeble, head of fixed-income strategy with Credit Agricole SA in New York.
Keeble flagged the risk for Treasury bulls in a note before the meeting. Goldman Sachs analysts led by Francesco Garzarelli echoed the notion, saying the probability the market was assigning a December liftoff was too low. They give a 2015 Fed increase a 60 percent chance.
'Too Lightly'
Aaron Kohli, an interest-rate strategist at BMO, said the "market may be taking the prospect of a December hike a bit too lightly."
Wagers on a December move fell after last month's Fed meeting, when officials cited concern about global growth and financial conditions in their decision to keep rates unchanged. Expectations dropped further this month after reports on U.S. job creation and retail sales were weaker than economists forecast.
Underlining how U.S. policy is diverging from the rest of the world, China cut interest rates for the sixth time in the past year last week, while New Zealand's central bank governor said Thursday that another reduction in borrowing costs is likely. Sweden just expanded its bond-purchase program, and the European Central Bank said last week it may boost stimulus in December.
Two-year Treasuries yielded 105 basis points more than similar-maturity German notes. That's the most since 2006.
The U.S. government is due to sell $29 billion of seven-year notes Thursday, while a report is forecast by economists to show growth slowed in the third quarter.
Not So Fast
Traders still expect the Fed to move slowly. Beyond December, implied yields on fed funds futures signal a second rate increase may not come until the second half of 2016. In three years, the market sees the funds rate rising to about 1.5 percent, below the 3.5 percent long-term projection that Fed officials indicated in their latest quarterly forecasts in September.
While benchmark yields rose across the board Wednesday, those on three- and five-year Treasuries climbed the most, since expectations for tighter Fed policy have a larger effect on shorter-maturity debt.
That's why Patrick Maldari, a senior strategist for fixed-income portfolios at Aberdeen Asset Management Inc., has favored longer-term securities.
"The Fed wants to get that funds rate up, and that's why we're trying to avoid the short-to-intermediate part" of the yield curve, Maldari said from the New York offices of Aberdeen, which manages about $483 billion.
Before it's here, it's on the Bloomberg Terminal.
LEARN MORE