Barclays's Results: Here Are The Five Key Things to Look Out For
By
Investment bank profit seen lower after U.S. peers hurt

Barclays pretax profit may rise 4% to $2.5 billion in quarter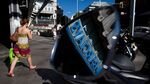 When Barclays Plc reports third-quarter results on Thursday, investors will be seeking news on the investment bank's profitability and strategy. Jes Staley, who will take over as chief executive officer in December, on Wednesday pledged to "complete the necessary transformation and repositioning" of the securities unit to a "less capital-intensive model."
*GROUP PROFIT
Pretax profit, including restructuring costs, may rise 4 percent 1.65 billion pounds ($2.5 billion) from the year-earlier period, according to the average estimate of 14 analysts surveyed by Barclays. Excluding restructuring costs, profit will probably drop about 4 percent to 1.8 billion pounds, "largely due to weaker investment banking revenues," UBS Group AG analyst Ivan Jevremovic said in an Oct. 19 preview.
The bank's credit card business, Barclaycard, may help bolster earnings, with an estimated loan growth of 1.8 percent in the quarter, according to Chirantan Barua, an analyst at Sanford C. Bernstein Ltd. in London.
*INVESTMENT BANK
Chairman John McFarlane and CEO Staley may struggle to revive earnings at the securities unit. In a sign of how difficult markets are, revenue at the four largest U.S. investment banks dropped 11 percent to $32 billion in the year's first nine months, according to results announced by the firms this month. The business headed by Tom King contributes about a third of the bank's revenue, yet has the lowest profitability of four units.
The results are "more about tone and strategy than numbers," but the securities unit isn't expected to perform well because "U.S. investment banks had a weak quarter," said Colin Mclean, founder of SVM Asset Management Ltd. in Edinburgh, who helps oversee more than $800 million. "The market will want reassurance Staley's not going to stop winding down the investment bank."

*CONDUCT COSTS
Investors will be looking for any clues regarding a settlement of the dark pool scandal, after the lender was sued last year by New York Attorney General Eric Schneiderman for allegedly lying to customers about practices in its trading venue.
In the U.K., the Serious Fraud Office is investigating advisory fees paid to the Qatar Investment Authority after Barclays raised 7 billion pounds to avoid a taxpayer bailout in 2008. The bank may also set aside more money to compensate customers for wrongly sold payment-protection insurance they did not want or need. The PPI scandal has cost Barclays more than 6 billion pounds so far.
*CAPITAL BUFFER
JPMorgan Chase & Co. forecasts common equity Tier 1 ratio, a measure of its high-quality capital, of 11.2 percent for the end of September. At UBS, analysts estimate an additional 10 basis points of capital accretion to give Barclays an 11.3 percent buffer.
The CET1 level stood at 11.1 percent at the end June, beating a target set for year-end 2016. Finance Director Tushar Morzaria, 46, said he expects the ratio to stay at about the same level through the year as regulators prepare a second round of stress tests.
*COST CUTS
The cost-income ratio, a measure of the lender's efficiency, was at 64 percent at the end of the first half compared with 67 percent a year earlier. McFarlane has said the bank remains committed to reducing the ratio to the "mid-50s."
"Cost will be a bright area for the bank as the chairman pushes through a more aggressive agenda," with operating expenses falling about 4 percent to 3.7 billion pounds from a year earlier, according to Bernstein. Analysts at JPMorgan forecast a decrease in costs to 3.8 billion pounds.