Staley Says Barclays Must Complete Investment Bank Repositioning
by
New CEO seeking a ``less capital intensive'' securities unit

Staley to be paid as much as 8.25 million pounds a year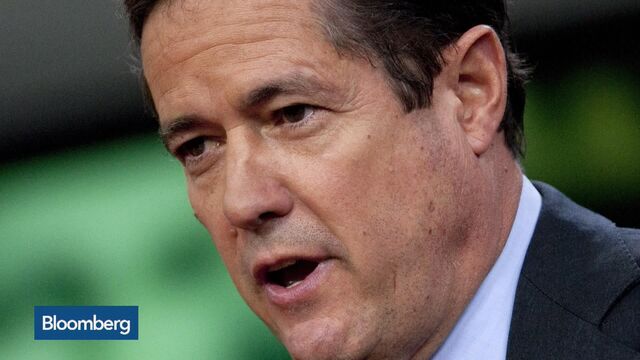 Within minutes of his appointment, new Barclays Plc chief Jes Staley set out his vision for the lender's investment bank, pledging to continue shrinking the division and restore a "collaborative" relationship with regulators after the firm paid billions in misconduct fines.
"We will complete the necessary transformation and repositioning of the investment bank to a less capital-intensive model," as well as "the cultural transformation of the group," the 34-year veteran of JPMorgan Chase & Co. wrote in a memo to staff Wednesday. "There can be no retreat from becoming a values-driven organization which conducts itself with integrity at all times."
Staley, 58, will take over on Dec. 1, the London-based bank said in a statement Wednesday, ending more than two weeks of speculation about whether appointing the former head of JPMorgan's investment bank would signal a change in strategy. Chairman John McFarlane said last week that some observers had "jumped to conclusions" about the implications of hiring Staley, the second American-born CEO after Robert Diamond.
"We are a commercial enterprise and must generate attractive returns for our shareholders," Staley said in his memo, which was confirmed by a Barclays spokesman in London. "They have been patient and now we must deliver for them."
'Not Easy'
Barclays shares have dropped almost 3 percent since Staley's candidacy was first reported on Oct. 12. They slipped 0.3 percent to 250 pence at 11:11 a.m. in London, after falling as much as 1.5 percent earlier.
Since firing Antony Jenkins as CEO in July, McFarlane has pledged to boost returns and restore investor confidence, battered by surging litigation costs. The securities unit, headed by Tom King, contributes about a third of the bank's revenue, yet has the lowest profitability of four units with a 2.7 percent return on equity in 2014.
"Let's see how Staley executes -- this is not easy, it's a huge challenge, because the investment bank is still a big driver of growth in terms of revenue," said Julian Chillingworth, chief investment officer at Rathbone Brothers Plc, which manages 27 billion pounds ($41 billion) and owns Barclays shares. "He's got to sell himself to the investment bank as one of the boys, whilst cutting it back and reforming the culture, so it's going to be a difficult balancing act." 
'Leadership Talent'
McFarlane has described Staley as "a client guy" who wasn't a trader, but managed JPMorgan's investment bank and has a background in commercial banking. At the peak of his career at JPMorgan, Staley was seen as a candidate to succeed Jamie Dimon as CEO.
Staley was also snubbed at Barclays in 2012, when the lender appointed Jenkins, a retail banker, to replace Diamond in the wake of a fine for rigging Libor benchmark rates. Instead, he joined hedge fund Bluemountain Capital Management as managing partner.
McFarlane called Staley an executive with the "appropriate leadership talent and wide-ranging experience to deliver shareholder value and to take the group forward strategically" as Barclays seeks to reposition its securities unit.
Profit Drop
"We had warmed to Barclays on the basis that it was de-emphasizing the relatively low-return investment-banking business," said Gary Greenwood, an analyst at Shore Capital in Liverpool, England. If Staley's appointment "is simply a case of ensuring that a smaller investment banking business generates the best possible return on equity, then we would view this as a positive."
Barclays is scheduled to report third-quarter earnings on Thursday. Pretax profit, including restructuring costs, may be little changed at 1.6 billion pounds from a year earlier, according to analysts at Investec Plc. Excluding those charges, profit will probably drop about 4 percent to 1.8 billion pounds, "largely due to weaker investment bank revenues," UBS Group AG analyst Ivan Jevremovic wrote in a note.
Staley Compensation
Staley could earn as much as 8.25 million pounds a year at Barclays, according to a spokesman. His fixed pay will total 2.75 million pounds, split between a 1.2 million-pound basic salary, 1.15 million pounds of role-based-pay and a 396,000-pound pension. That's about 14 percent more than Jenkins.
He could also earn variable pay of up to 5.5 million pounds, including a 2.2 million-pound bonus in cash and shares, and a long-term incentive plan that could reach 3.3 million pounds in shares paid three years later, the spokesman said. Staley also received 1.93 million pounds of Barclays stock to buy him out of his unvested shares at JPMorgan, according to the statement.
UBS Group AG said in a statement Wednesday that Staley has resigned as a member of the board of directors to avoid "conflict of interest." He also stepped down as a member of the Swiss lender's human resources and compensation and risk committees.
'Huge' Role
"This is a huge, complex, and challenging role, leading one of the largest and most important financial institutions in the world," Michael Rake, who leads the board's nomination committee, said in the statement. "We are unanimous in our view that Jes Staley is the right man for that role, we wish him every success, and he will have our full support."
Staley will become the second former head of JPMorgan's investment bank to take the helm of a British lender this year. Bill Winters, who led the unit before Staley, became CEO of Standard Chartered Plc in June. Germany's Deutsche Bank AG and Zurich-based Credit Suisse Group AG have also appointed new CEOs this year.
"My respect for the critical role which regulators play in our industry is unequivocal," Staley said. "I have repeatedly said that banks should spend less time preparing for a scenario similar to 2008, and more time working to avoid such situations entirely. Core to that objective is having relationships with regulators that are collaborative, not adversarial."
Before it's here, it's on the Bloomberg Terminal.
LEARN MORE