Bank of England's Silent Officials Make Life `Tricky' for Public
by
Some rate-setters yet to shed light on outlook for policy

Monetary Policy Committee begins meetings in London Wednesday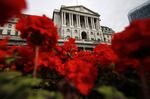 A silent corner has emerged at the Bank of England.
Governor Mark Carney and the other eight members of the Monetary Policy Committee will gather Wednesday to debate the economic outlook, leading up to their interest-rate announcement on Nov. 5. While all members have the opportunity to learn from each other during their discussions, those outside the bank looking for a steer on how policy will evolve are comparatively left in the dark.
Deputy Governors Minouche Shafik and Jon Cunliffe have resisted detailing in depth their outlook for growth, inflation and rates in public speeches since joining the bank more than a year ago, economists say. In a setup where each of the nine MPC members' votes hold equal weight, their reluctance to expand upon their monetary-policy views leaves investors with an information gap as they prepare for the first rate increase since 2007.
"It makes life tricky, there's a number of MPC members from whom we haven't had a clear steer for a while," said Rob Wood, an economist at Bank of America Merrill Lynch in London and a former BOE official. "It makes judging the outlook for policy difficult. You just need that extra bit of color."
Diverging Expectations
The divergence between economists' and investors' expectations for the timing of the first rate hike from the current record-low 0.5 percent highlights the information shortfall. Economists see the first full quarter-point increase coming in the second quarter next year, while investors expect it to happen after December 2016.
Federal Reserve officials announce their latest rate decision in Washington on Wednesday. While traders are pricing in little chance of them tightening policy this time, they are seeking indications from the meeting on the trajectory of borrowing costs.
Cunliffe and Shafik -- deputy governors for financial stability and markets respectively -- have delivered speeches on topics ranging from "fixing the global financial safety net" to market liquidity, reflecting their wide-ranging remits. Shafik gave a speech on Tuesday that reiterated the central bank's well-worn line that rate increases will probably be "limited and gradual." Cunliffe's latest was last week, and he focused on capital buffers and the regulatory framework. 
Neither revealed their assessment of the outlook for inflation to return to the BOE's 2 percent target or prospects for growth.
Bloomberg Intelligence economists rank them both zero in a scale that measures hawkishness and dovishness. The lack of monetary policy discussion in their speeches complicated the grading.

"Nothing in their speeches has given us any indication of what their leaning is," said Dan Hanson, a U.K. economist at Bloomberg Intelligence. "It would be more useful for people who watch the Bank of England if they gave a firmer view on how they see recent events in the U.K. economy and the likely implications for the rate outlook."
Latest Developments
The MPC will make its decision on Nov. 4 and announce it on Nov. 5, alongside new forecasts for growth and inflation and a breakdown of how each person voted. Minutes of the October decision showed members placed "differing weights" on risks to inflation. However, they didn't give detail on where individual members stood on the matter.
Along with the rest of the MPC, Shafik and Cunliffe reveal their thinking in media interviews and evidence to lawmakers. But for some observers, understanding the general direction of the committee can be just as helpful as each person's thinking.
"There are the favorites and the ones who don't mind a bit of the limelight, but I don't feel we're missing something by some members doing less," said Stewart Robertson, an economist at Aviva Investors in London. "I'm interested in sound reasoned economic analysis, whether that comes individually or collectively."
Other MPC members are happy to add color to the debate and give investors a helping hand. McCafferty said this month that global threats don't change his view that a interest-rate increase is needed, while Kristin Forbes also said the U.K. can withstand the turmoil. Making the case from the other side is Chief Economist Andy Haldane, who said in September that the case for lifting rates is still "some way from being made."
Perhaps the relative silence of Shafik and Cunliffe reflects compatibility between their stance and the central view expressed by the MPC, including Carney.
Neither "have really said a great deal about the current situation or where rates are going," said Azad Zangana, an economist at Schroders Plc. "They will probably move with the consensus and I'd expect the governor to carry the consensus with him."
Before it's here, it's on the Bloomberg Terminal.
LEARN MORE