Australian Core Inflation Slows, Sending Currency Down Half Cent
by
Traders pricing in more than 60% chance of rate cut next week

Data ``open the door wider to an easing before year end'': Ong
Australian core consumer prices rose less than economists forecast last quarter, giving the central bank scope to resume interest-rate reductions if needed and sending the currency down half a U.S. cent.
The Reserve Bank of Australia looks at the two core inflation measures -- trimmed mean and weighted median -- and targets an annual rate of 2 percent to 3 percent. Today's report showed the following changes from a year earlier:
Trimmed mean CPI rose 2.1% vs. median forecast of 2.4% gain
Weighted median CPI climbed 2.2% vs. forecast 2.5% increase
Headline CPI rose 1.5% vs. forecast 1.7% rise
"It's clearly consistent with an economy that is persistently stuck at a sub-par pace with excess capacity and labor market slack," said Su-Lin Ong, head of Australian economic and fixed-income strategy at Royal Bank of Canada in Sydney. The data "open the door wider to an easing before year end."
Traders boosted bets on a rate cut at next week's policy meeting, a move that would break RBA Governor Glenn Stevens's five-month pause at a record-low 2 percent. The central bank is betting that the currency's decline of 9 percent in the three months through September will boost the competitiveness of local companies and remains confident restrained wage growth will keep inflation contained even as the lower Aussie boosts the price of imports.
Bottom of Target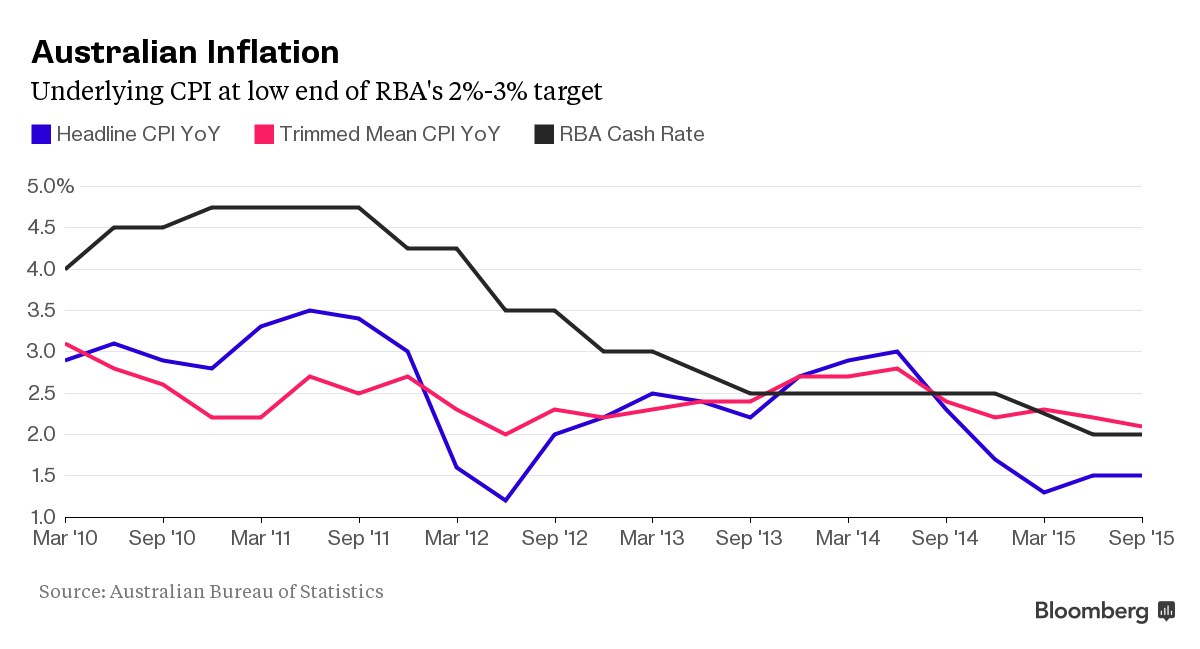 The currency fell from 71.86 U.S. cents before the data were released and was trading at 71.35 U.S. cents at 12:32 p.m. in Sydney.
Global Travel
Today's report showed the following key headline price gains and losses:
International holiday travel and accommodation costs rose 4.6% in the third quarter from the prior quarter
Fruit prices gained 8.2%
Property rates and charges rose 4.6%
Vegetable prices fell 5.9%
Telecommunications equipment and services dropped 2%
Automotive fuel fell 1.7%
The report showed quarterly inflation of 0.3 percent for tradable goods, which are affected by the currency and other international factors, and 0.4 percent for non-tradables goods, which are impacted by domestic variables.
Unwinding Boom
The central bank is trying to kick start a revival in industries outside of mining, where an investment boom is only part way through unwinding. The nation's unemployment rate has remained relatively steady at just above 6 percent, which the RBA attributes in part to recessionary level wage gains. Still, the economy has expanded below its 30-year average for six of the past seven years.
The statistics bureau also released quarterly numbers for inflation:
Trimmed mean CPI rose 0.3% QoQ vs. median forecast of 0.5%
Weighted median CPI gained 0.3% QoQ vs. median forecast of 0.5%
CPI increased 0.5% vs. median forecast of 0.7%
Before it's here, it's on the Bloomberg Terminal.
LEARN MORE