As Argentina's Election Goes to Runoff, Focus Turns to Loser
by
Sergio Massa, a conservative Peronist, may play king maker

Can he deliver? Analysts are studying his voters for clues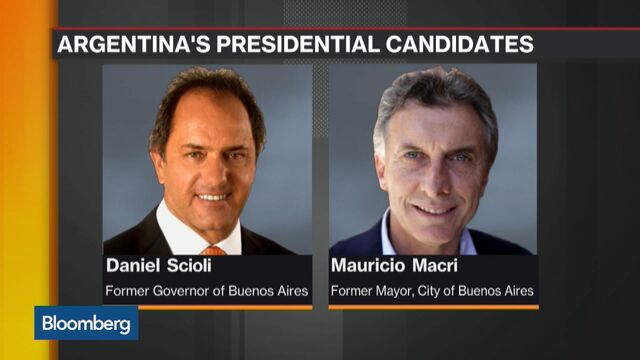 After Argentina's presidential election stunned the nation by turning an expected shoo-in into a neck-and-neck contest, the two front-runners are preparing for a bruising four-week campaign. But the candidate attracting most of the attention right now is the one who was eliminated: Sergio Massa.
Massa drew 21 percent of the vote, or 5 million people, and they now have the chance to pick the next president. The question is whom Massa will favor and whether he will -- or can -- bring his voters with him.
"He can be the arbiter and that gives him a lot of scope for negotiation," said Lorena Moscovich, a professor in political science at the University of San Andres in Buenos Aires.
Massa is a charismatic 43-year-old lawmaker and former mayor who has made tough-on-crime policies a signature issue. On Wednesday he plans to unveil a policy paper aimed at influencing the Nov. 22 run-off. And while most analysts suspect he will remain studiously uncommitted at least for a while, he's given some signs of his inclination.
Fernandez's 'Employee'
"People don't want continuity," he said Tuesday, an unmistakable jab at Daniel Scioli, the top vote-getter who is allied with outgoing President Cristina Fernandez de Kirchner. He has also accused Scioli of being Fernandez's "employee." Opposition candidate Mauricio Macri has wasted no time and said he's in talks with Massa.
What he can offer Massa is unclear, perhaps a leading role in Congress. Moscovich argues that Massa may or may not make a deal with Macri but is unlikely to make an alliance with Scioli. A Macri victory would probably suit Massa since it would position him as the de facto leader of Peronism, the shifting political ideology named after former President Juan Domingo Peron, that has ruled Argentina for decades.
Conversely, aligning himself too closely with Macri would make it difficult for him to later break away and lead the opposition, she said.
Massa said Wednesday his alliance isn't seeking any government posts in exchange for endorsement but rather that they want "change." He will present policy proposals and hold a press conference in Buenos Aires at 7 p.m.
The first poll to measure second round voter intentions showed Macri defeating Scioli. Macri had 45.6 percent against 41.5 percent for Scioli with 8.8 percent still undecided, according to a telephone poll of 1,000 people carried out on Monday and Tuesday by Gonzalez & Valladares and published by Clarin. The survey found that 45 percent of those who voted for Massa in the first round now planned to vote for Macri compared to 22.3 percent for Scioli. Almost a quarter were still undecided while 8.2 percent would post a blank vote.
Scioli has made his own attempts to woo Massa, saying that, as Peronists, they share priorities and the "typical Massa voter is much further from Macri than from us."
Market-Friendly
Macri is the more market-friendly, conservative candidate who promises a set of economic shifts that worry the lower classes who rely on government subsidies.
It is far from clear how much influence Massa has over his own followers.
"He's very influential, but you have to bear in mind that votes in Argentina don't belong to the candidates, they belong to the voters," said Sergio Berensztein, president of a political consulting firm that bears his name.
This is particularly true of Massa, Berensztein said. A relatively new force in Argentine politics, he was the youngest ever cabinet chief under Fernandez, before breaking with her and forming his own dissident Peronist movement.
Sense of Allegiance
Given that his political alliance is only a few years old, his voters are less likely to have a strong sense of allegiance to him and will be less influenced by whom he chooses to back, Berensztein said.
Scioli and Macri may therefore profit more from studying the profile of Massa's voters. They can be divided into two categories, according to Ernesto Calvo, a professor in government and politics at the University of Maryland.
The first are conservative Peronists opposed to Fernandez's blend of left-leaning Peronism but aren't necessarily repulsed by Scioli himself. The second category is comprised of middle-class voters likely either to abstain or vote for Macri.
Calculating the likely votes of Massa followers is therefore complex; they may end up splitting evenly, especially if Scioli turns toward the center over the next weeks of campaigning, according to Calvo. Scioli will likely tread a fine line between retaining the core of voters who support Fernandez and fishing for the Peronists who went with Massa.
Search for Insight
The thirst to understand Massa voters is sufficiently intense that an experiment conducted two weeks ago on Massa supporters is gaining the attention of columnists and political analysts grasping at any straw of insight. In that study, carried out by a Dutch company, 24 Massa backers were shown images of the three candidates followed by video clips while their brain activity was measured.
Marc Rothuizen of Neurensics, said that the Massa voters showed strong emotional attachment to Macri's message of change.
Scioli is making overtures to Massa voters by warning that a Macri presidency would plunge Argentina into a chaos of currency devaluation and debt crisis such as the one that engulfed the country in 2001.
But he'll also have to appeal to pro-change conservatives without alienating Fernandez's followers, said Berensztein. What seems clear is that if he only promises continuity, he'll lose, he said.
Before it's here, it's on the Bloomberg Terminal.
LEARN MORE