pursuits
Alibaba Mirrors the Fits and Starts Rise of China's New Economy
By and
E-commerce giant's bouyant sales show shift to consumption

Analysts caution that the economic transition won't be smooth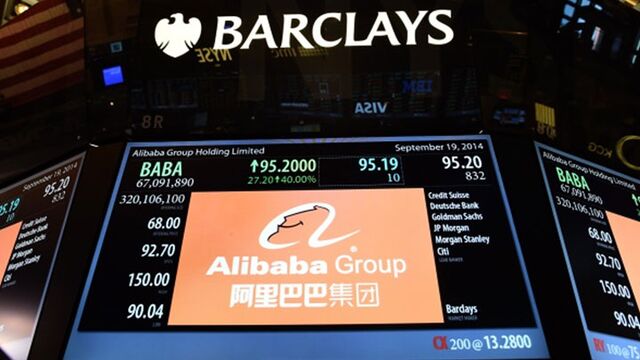 When Alibaba Group Holding Ltd. on Tuesday released bumper third quarter sales figures, the e-commerce company's stock price shot to the highest level in more than two months. The upbeat results were noteworthy, given that corporate profits across China are under pressure in an economy on track to deliver its weakest annual expansion in 25 years. 
Yet the better-than-expected numbers from Alibaba, a company with exposure to everything from business-to-business web portals and online retail to shopping search engines and cloud computing, point to emerging trends in the world's second-biggest economy as well.  
In many ways, Alibaba is a useful proxy for the broader, if sometimes halting, transition underway within China's complex, $10 trillion-plus economy away from debt-fueled investment, exports and heavy industry as dominant drivers of growth and more toward sectors like consumption and services.
This rebalancing act by President Xi Jinping's government seems to be gaining traction. Retail sales grew faster than investment in the year through September, a marked change from the days when residential construction was the primary growth driver. Top Communist Party officials, gathered this week for a plenum meeting, are expected to sign off on a new five-year blueprint for the economy that will have consumption and services at the center. A communique expected Thursday may provide a broad outline of the proposals that will be detailed to the national legislature in the spring.
"The building blocks are now in place for what could be the world's greatest consumption story of the 21st century," said Stephen Roach, a senior fellow at Yale University and former Morgan Stanley non-executive chairman in Asia.
The evidence is everywhere: from sales of cinema tickets to smartphones, consumers are spending. Apple Inc. last quarter generated $12.5 billion in revenue in Greater China including Taiwan and Hong Kong. That's almost double the year-earlier sales, though down 5.4 percent from the third quarter. 
Apple's Chief Executive Officer Tim Cook expects the world's most populous country will eventually be the company's biggest market. The company will have 40 stores in the region by next year, up from 25 now. "I wouldn't know there are any economic issues in China," Cook said.
Alibaba's billionaire founder Jack Ma said at an Alibaba Cloud conference in October that China is transitioning from a reliance on investment and exports to domestic consumption. Ma expects China's middle class population to reach 500 million, from about 300 million now, by 2030.
"When you look at the individual Chinese consumer, they're very liquid," Alibaba Vice Chairman Joseph Tsai told analysts on a conference call on Tuesday. "A temporary setback in the macro economy is not going to affect their consumption pattern in a fundamental way."
Alibaba and its financial affiliate, Zhejiang Ant Small & Micro Financial Services Group Co., are exploring location-based services including grocery and food delivery services. China's fast growing local services market is expected to reach 7.28 trillion yuan ($1.14 trillion) in sales by 2017.
Local services are a key area of competition in China as people turn to their smartphones or the Web to order takeout food, beauty treatments and domestic helpers. Chinese users of location-based services could rise 29 percent to 400 million by 2017, according to Shanghai-based Internet consultancy Research.
"We are seeing real evidence on the ground of the consumer economy taking off," said Jonathan Woetzel, a senior partner at McKinsey & Co. who co-wrote a book on Chinese consumers.
In some ways, companies like Alibaba are reaping the fruits of a transition that began under Xi's predecessor, Hu Jintao when wages began to sharply increase, boosting households purchasing power. To be sure, it won't all be plain sailing and China's economy remains a long way off achieving the transition its leaders yearn to complete.
Consumption's share of growth slipped sharply in recent decades as investment was ramped up and the economy's size grew, falling from 51 percent of gross domestic product in 1985 to 34 percent in 2013 according to McKinsey. 
That compares with levels around 61 percent in Japan and 68 percent in the U.S.
If policy makers succeed in getting that figure back to at least the 43 percent level it was in 1995, it will have a huge impact on rebalancing, according to Woetzel.
A slowdown in real estate investment, manufacturing, exports and a muddled response by regulators to the stock market rout will all weigh on confidence.
"The challenge is one of sentiment and confidence," said Daniel Rosen, a partner at Rhodium Group, a New York-based economic research house. "The array of disruptive policy changes in industry, trade and investment, and society broadly could incline the nation's households to hold back on consumption if leaders are clumsy at responding to corrections like we saw this summer."
Still, what seems like a major challenge now as growth slows and capital flees may prove to just be bumps along the road. "Consumers are playing a driving role in China's growth, and they have the potential to do so for years to come," Rosen said.
— With assistance by Adam Satariano
(Updates with timing of plenum communique in fourth paragraph.)
Before it's here, it's on the Bloomberg Terminal.
LEARN MORE