Zuma Says South Africa Faces a 'Serious Struggle' to Meet Economic Goals
by and
Economic slowdown puts growth, jobs target out of reach

Student protests may have `gone further' without state action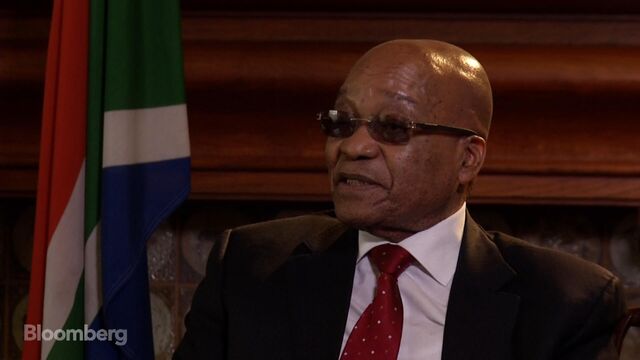 In his frankest admission yet about the state of the economy, President Jacob Zuma said South Africa faces a "serious struggle" to meet growth and jobs targets amid a global slowdown.
"You can't say, when the economy is not growing, that your original plans will be implemented as they were," Zuma, 73, said in an interview Tuesday in Pretoria, the capital. "There will be an impact, which will mean that in terms of how we meet them, it is going to be a serious struggle."
South Africa's economy is battling to create enough jobs for the almost one in four that are unemployed, putting the government's budget under strain. Finance Minister Nhlanhla Nene last week cut his growth forecast for this year to 1.5 percent from 2 percent, while the statistics agency said on Tuesday that the unemployment rate rose to 25.5 percent in the third quarter. The government's goal is to boost growth to more than 5 percent by 2020 and reduce the jobless rate to 14 percent.
Running Battles
Falling metal prices, triggered by a slowdown in China, has forced mining companies such as Anglo American Platinum Ltd. to consider firing workers. Investment in South Africa has also stagnated as business confidence remains near a four-year low, dragged down by an energy crunch that resulted in frequent powers cuts, particularly in the first half of the year.
Zuma spoke at his residence near the Union Buildings where four days before thousands of demonstrators called for a freeze on university tuition, capping more than a week of protests by the students that were the biggest since the end of apartheid. The unrest provoked running battles between the police using stun grenades and protesters outside Parliament in Cape Town and in Pretoria. On Friday, Zuma bowed to their demand.
"It was clear that if we did not have a solution the demonstrations would have gone further," Zuma said. "They were very courageous."
Facing Stones
The protests weren't a sign of deepening discontent with the ruling African National Congress, Zuma said, and were instead part of demands by young South Africans to ensure that black people gain equal access to an economy still dominated by whites.
The #FeesMustFall Twitter campaign was fueled by rising student costs, including fees, housing, food and textbooks that can exceed 100,000 rand ($7,300) a year. First-year tuition alone at the University of the Witwatersrand in Johannesburg, where the protests started, ranges from about 32,000 rand to more than 58,000 rand.
At the Oct. 23 protest at the Union Buildings, Zuma said he observed students throwing stones at police and "interfering" with a podium set up for him, before deciding against coming out to address the protesters directly.
Rand Attack
"There was anxiety because the behavior of the students outside was quite something," he said. "I didn't think it was prudent to go and just meet the stones or whatever and therefore move away from the important issue of addressing the cause of the protests of the students."
The student protests have rattled investors, with the rand slipping 4.3 percent against the dollar since the start of last week, the most of 16 major currencies monitored by Bloomberg.
"Our currency is in a sense being attacked by the global situation and we are trying to handle it from that angle," Zuma said. "South Africa remains a destination for investment. I think we have everything it takes for investors to come here, and their investments are secured."

"You can't have a flourishing budget when the economy is in trouble," Zuma said. "We need to have projects that generate employment even under the very distressed situation, but we can no longer say as we put these, we will indeed achieve them as we thought."
Two years before the next ANC leadership contest, Zuma said he'll be guided by the ruling party on whether to stay on as ANC leader for a third term. While Zuma said he opposed any change to the constitution that limits the nation's president to two terms, the ANC has no restriction.
"Even the president has no right to take his own decision. We don't act as individuals, the ANC guides us," he said. "When the time comes the ANC will direct us. To begin to raise a debate about it now does not help the ANC."
Before it's here, it's on the Bloomberg Terminal.
LEARN MORE