Zuma Against Changing South Africa's Constitution for Third Term
By and
Changes to constitutions should be democratic, Zuma says

South Africa's ruling ANC is due to elect its leader in 2017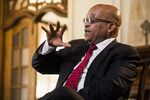 South Africa shouldn't change its constitution to enable a sitting president to stand for a third term in office, President Jacob Zuma said.
"We are very clear about the two terms," he said in an interview at his residence in the capital, Pretoria, on Tuesday. "The issue does not arise at all. I think it is very healthy for us here in South Africa that we don't stay forever."
The ruling African National Congress has governed South Africa since the end of white-minority rule in 1994. The party, which won 62 percent of the vote in national elections last year, is due to elect a successor to Zuma, 73, in two years. While the South African constitution restricts the number of terms the country's president can serve, the ANC's rules have no limits for the party leader.
"We are all guided by the ANC -- it is the ANC that decides what happens to us as individuals," Zuma said. "The ANC must take its time, it has its own processes wherein that matter will become clearer."
The leading candidates to take over from Zuma are the ANC's deputy leader and national deputy president, Cyril Ramaphosa, and Nkosazana Dlamini-Zuma, the chairwoman of the African Union Commission and the president's ex-wife. Others include party chairwoman Baleka Mbete and treasurer Zweli Mkhize.
Zuma said that while the limitation on presidential terms has been widely accepted as a general idea to introduce democracy in Africa, the extension of those terms is acceptable when done through democratic processes.
Democratic Decision
"Countries move the way they want," he said. "There are countries recently that have gone to a referendum, the people have said: 'we still want this man, we think this man is still useful.' Its a democratic decision that is taken."
The Republic of Congo voted this month to change its constitution, allowing President Denis Sassou-Nguesso to run for a third successive term in a referendum disputed by opposition parties. Burundi's leader, Pierre Nkurunziza, won a third term in July elections despite the opposition saying that it was a breach of the constitution. Rwanda is planning a referendum on whether to change its law to allow Paul Kagame to contest elections again.
Burkina Faso President Blaise Compaore was forced out of office last year after protests against an attempt to change the nation's constitution to allow him to extend his 27-year rule.
"To change the constitution, that has been a problem because once you have got a constitution and an understanding, you need to implement it," Zuma said. "We should not, as presidents, turn against those decisions and the constitution. That's what we think is not acceptable."