Yellen Has Over 6 Million Reasons to Take Her Time Raising Rates
by
Fed chair eyes policy experiment to squeeze labor-market slack

Low rates could boost demand, increase hiring and investment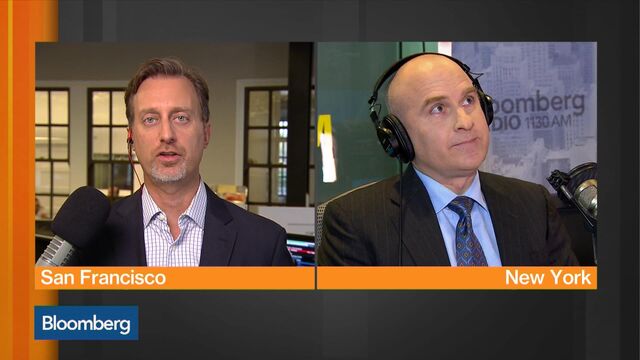 Harry Elanko is one of the American workers in Federal Reserve Chair Janet Yellen's petri dish.
Elanko, 62, from Fairfax County, Virginia, is holding down two part-time jobs as he seeks full-time work. His resume shows years of experience as a business administrator -- the kind of back-office guy who pays the bills and taxes and makes sure everything runs smoothly.
For Yellen, the six million people like Elanko working part-time because the economy isn't strong enough, plus the more than 600,000 who've become so discouraged about prospects that they've stopped looking for a job, signal interest rates can stay low for longer.

Yellen's focus on the under-employed is steering monetary policy toward a bold experiment: The Federal Open Market Committee will use the big, blunt instrument of low interest rates to push the jobless level low enough to pull more labor-force quitters and part-timers back into full-time work.
The hope is that it will kick-start a virtuous cycle of investment, higher productivity and better pay that will heal the vestiges of the worst recession since the Great Depression.
It's a "new view of the reach of monetary policy," said Laurence Meyer, who served on the Fed's Board of Governors with Yellen in the 1990s. It "goes against everything I taught at the university for 27 years."
Fighting Tradition
Traditional economics says that, in the long run, monetary policy influences prices, not the size of the labor force, which is determined by long-term forces including population growth.
Should the Fed stimulate enough demand for labor to put a dent in the underemployed, it "would be a fantastic achievement," says Meyer, and "that might be a gamble worth taking." The biggest risk is that inflation will exceed the central bank's 2 percent target by "more than a little," he said.
U.S. central bankers next meet October 27-28 and are expected to leave rates near zero as they wait for more information about what weaker growth in China means for the outlook on U.S. hiring and inflation.
Fed Directors
The directors of eight of 12 regional Fed banks, who inform on business conditions and advise on monetary policy, called for an interest-rate hike in September. Richmond Fed President Jeffrey Lacker dissented in favor of an increase as the committee left the benchmark unchanged near zero at its Sept. 16-17 meeting.
Yellen's gambit is risky because "you may think you are probing the frontier" of labor market slack, "but you may already be at the frontier," says Michael Feroli, chief U.S. economist at JPMorgan Chase & Co. in New York.
The unemployment rate currently stands at 5.1 percent, and the FOMC last month estimated it would decline to 4.8 percent in fourth quarter of the next three years. That's just below the 4.9 percent level which they consider consistent with full employment.
The rate including the underemployed and the discouraged was 10 percent in September. The number of people working part-time for economic reasons, combined with those too discouraged to look for a job, equaled 4.5 percent of total employment last month, compared with a low of 2.5 percent in 2000.

For people like Elanko and Phyllis Swenson, another Fairfax County, Virginia, resident who is working part-time but would like a full-time job, the idea that the economy is near full employment seems like a cruel joke.
"For me, the economy has still not picked up," Elanko said in an afternoon interview at a coffee shop after his part-time job at a church. Companies lack confidence to hire full-time workers, he said.
Elanko has been working part-time since June 2014 after his employer cut his hours to save money, and supplements his income with weekend work at another church. He huddles with networking groups every week, speaks with recruiters about once a month and lands an interview every five or six months. He lost his home to foreclosure.
Swenson, a 62-year-old Air Force veteran, was put on part-time work due to budget constraints at a church where she helps run a child-care service. She is having trouble meeting her expenses, including her mortgage payments.
"I don't think the job market is strong enough, especially for people like me," Swenson said.
'Chicken-Egg'
Officials are trying to break what New York Fed President William Dudley once called the "chicken-egg" problem of slack demand causing companies to rein in spending on labor or equipment, which in turn damps demand.
One consequence of business caution is that companies are hoarding profits or deploying them to reward shareholders, instead of using the cash to become more productive.
Dividends at domestic non-financial companies totaled $581.9 billion in the second quarter at a seasonally adjusted annual rate, compared with $375.5 billion in 2010, a gain of 55 percent, Fed data show.
In a speech last month, Yellen referenced Fed research papers that argue monetary policy can make up for some of what economists call the "supply side" damage from the recession -- the slump in worker productivity, slow pace of investment and the exodus of workers from the labor force.
Positive Reinforcement
If monetary policy boosts demand it will generate investment that in turn will lift productivity and allow wages to rise without igniting inflation. Greater efficiency cuts costs by squeezing more out of each hour worked, expanding profit margins without price increases.
That section was the "most interesting and radical part" of Yellen's speech last month because economists remain divided on whether monetary policy can change such long-term trends that influence growth, said Feroli. It's a "roll of the dice."
After all, for almost seven years zero rates haven't ignited a capital-spending boom or reversed the decline in the participation of the working-age population in the labor force.
The gamble "goes with Yellen's heart," said Meyer.
Deep down, she believes the inequality that arises from workforce under performance "is one of the main forecasting and social issues of our time," said Meyer.
Before it's here, it's on the Bloomberg Terminal.
LEARN MORE