Why ABN Amro's `Wartime' Toolkit May Mean Stock Sells for Less
David de Jong, Elco van Groningen and Corina Ruhe
Dutch government will have controlling entity to protect bank

Here's what you need to know about ABN Amro's Stichting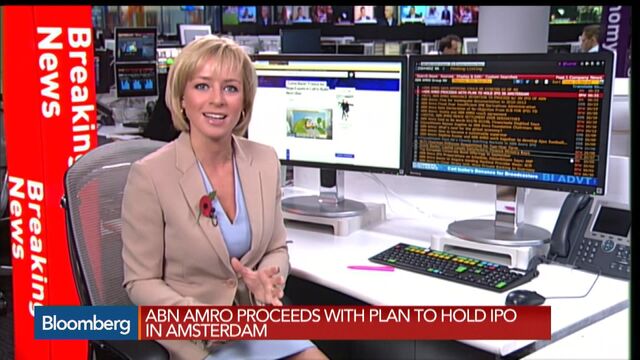 ABN Amro Group NV and the Netherlands on Tuesday announced their intention to proceed with an IPO of the state-owned bank as soon as this year.
To shield the lender from "hostile situations," the government has incorporated a so-called stichting to serve as a protective entity for the lender, which was the target of the world's largest financial-services takeover in 2007, and bailed out by the state a year later in the throes of the financial crisis.
Here's what you need to know about the measure:
What is a stichting?
Literally, it means foundation in Dutch. It's a legal entity that can be used for a charitable group, a takeover defense or as a tax-avoidance tool. A stichting must always have a stated purpose.
What's the goal of ABN Amro's stichting?
To provide sufficient protection against activist shareholders and against a public takeover offer that takes insufficient account of the various interests of ABN Amro.
How's it going to work?
The government has set up the Stichting Administratiekantoor Continuïteit ABN Amro Group. It has a board of three people that controls the ABN Amro shares that the government intends to sell. State entity NLFI, which owns nationalized financial companies on behalf of the Dutch government, appointed the board members.
The stichting will receive ABN Amro voting rights as soon as the government transfers shares to it. In return, the stichting will issue share certificates, or depository receipts, to investors during and after the IPO.
The stichting can seize the rights to certificates of ABN Amro investors for up to two years if the bank receives a hostile takeover -- during "wartime," as Dutch Finance Minister Jeroen Dijsselbloem has put it -- and block a takeover.
Won't that affect the share price?
It's likely. Dijsselbloem himself said earlier this year that the stichting construction will reduce the IPO proceeds by 5 to 10 percent. The construction has even earned a moniker: the Dutch discount.
Investors lose control via the stichting structure, said Bas Steins Bisschop, professor of corporate law and governance at Maastricht and Nyenrode University. "The theory goes that if investors don't have control, they're less interested in an investment, which subsequently goes down in value. That's called a Dutch discount."
Stichtings sound familiar. Who else has one?
Drug company Mylan NV incorporated itself in the Netherlands last year. After Teva Pharmaceutical Industries Ltd. made an approach, its stichting exercised an option to acquire preference shares, allowing it to control half of the company. Teva walked away shortly after.
So, why would anyone invest in such a stock?
Whether the Dutch discount tag is justified hasn't really ever been proven, said Steins Bisschop, as other countries are no stranger to these kinds of measures either.
For instance, companies in the U.S. can create "poison-pill" defenses to protect themselves from hostile bids and make a takeover more expensive. Companies such as Netflix Inc., Family Dollar Stores Inc. and Macerich Co. have done so at some point.
Before it's here, it's on the Bloomberg Terminal.
LEARN MORE