Vox Media, Buzzfeed Quit SXSW After Sexism Panels Axed
by and
Online outlets want technology festival to reverse decision

Threats of violence prompted cancellation of sexism discussion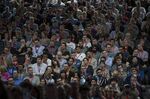 Owners of the digital news outlets Buzzfeed, The Verge and Curbed pulled out of South by Southwest Interactive to protest the festival's decision to call off panels on video-game culture and sexual harassment following threats of violence.
"By canceling the panels, they have cut off an opportunity to discuss a real and urgent problem in media and technology today," Vox Media Inc., which runs The Verge and Curbed, said Tuesday in an e-mailed statement.
South by Southwest, which sought to be a referee in a debate over sexism in the video-game industry, has now been thrust into the middle. The festival organized two panels for its March 2016 event covering the treatment of women in video games, along with the ugly reactions that calls for change can provoke. After caving to threats of violence, the organizers now are feeling pressure to reverse their decision from two popular online outlets that have participated in the event and brought it positive attention.
"We were disturbed to learn yesterday that you canceled two panels, including one on harassment in gaming, in response to the sort of harassment the panel sought to highlight," Buzzfeed, which claims more than 200 million monthly visitors, said in a statement. "We hope you will reconsider that decision, and reinstate the panels."
The two canceled events were titled: "Level Up: Overcoming Harassment in Games" and "SavePoint: A Discussion on the Gaming Community." The harassment panel included women who had spoken out on industry sexism. The SavePoint talk, about video-game culture, had participants on the other side of the debate.
Both media outlets called on SXSW Interactive to reverse its decision. Vox Media said the organizers needed to reinstate the panels and ensure they result in a safe and open discussion of the issues.
In response, SXSW said it was working with local law enforcement to assess the threats and was "evaluating several programming solutions."
"We want the SXSW community to know that we hear and understand your frustrations and concerns about the recent cancellation of two SXSW Gaming panels," Hugh Forrest, director of SXSW Interactive, said in a blog post.
Lisa Maatz, vice president for government relations of the advocacy group American Association of University Women, applauded the reaction of Vox and Buzzfeed. She said technology companies are becoming more responsive to issues related to sexism.
"The fact that the conference is one of the most important in their industry makes it more meaningful that they are taking a principled stand," Maatz said. "Tech companies are starting to see the error of their ways. Getting more women into STEM has been hard because of the brogrammer culture."
Forrest wrote in a blog post on Monday that threats of violence had undermined the group's ability to maintain civil dialogue during the panels.
A debate in the video-game industry has raged for more than a year, with industry critics questioning the way women are portrayed, and how they are represented and treated behind the scenes. Women who have spoken out have been attacked and sometimes threatened by online commentators who view negative descriptions of gaming culture as unfair.
Some of the targets, including Randi Harper, founder of the Online Abuse Prevention Initiative, were scheduled to speak at SXSW Interactive. The South by Southwest gathering also has music and film programs.
"I invite @sxsw or any other conference to chat with us about how to handle attendee and panelist security," Harper wrote on her Twitter page. "We're kind of the experts."
In his blog post, SXSW Interactive's Forrest said that the festival organizers sought to promote an exchange of ideas, and that the threat of harassment compromised the atmosphere needed to foster a "marketplace of ideas."
Before it's here, it's on the Bloomberg Terminal.
LEARN MORE