U.S. Signals Intensified Effort on Syria, From Combat to Talks
By
Carter says American forces will participate in raids

Kerry heading to Vienna for Syria talks that Iran may join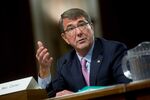 The U.S. is taking a more active military role on the ground in the fight against Islamic State, even as it intensifies diplomatic efforts to end the war in Syria by agreeing to Iran's participation in international talks.
"We won't hold back from supporting capable partners in opportunistic attacks against ISIL or conducting such missions directly, whether by strikes from the air or direct action on the ground," Defense Secretary Ashton Carter told the Senate Armed Services Committee on Tuesday, using an acronym for Islamic State militants in Syria and Iraq. He cited as an example U.S. participation in the raid last week in northern Iraq that led to the death of an American soldier.
At the same time, Secretary of State John Kerry left senators in a classified briefing on Capitol Hill with the impression that the Obama administration believes Russia and Iran's increasing military role in Syria -- over U.S. opposition -- may have created an opening for diplomatic progress, lawmakers said after the session.
Kerry will travel to Vienna for talks on Syria Thursday and Friday with his Russian, Arab and European counterparts. "We do expect that Iran will be invited to participate," State Department spokesman John Kirby told reporters. Last week, Kerry was more circumspect, saying only that he anticipated a possible Iranian role at some point in the talks to devise a transition for Syria.
The U.S. moves came as Republicans on the Armed Services panel renewed their sharp criticism of President Barack Obama's strategy, which has focused on U.S.-led airstrikes against Islamic State forces in Syria and Iraq. Obama has sought to limit U.S. participation in ground combat and to avoid direct confrontation with the forces of Syrian President Bashar al-Assad.
'Fallen Apart'
Senator Lindsey Graham of South Carolina, who's seeking the Republican presidential nomination, told Carter that Kerry is "turning over Syria to the Russians and the Iranians," and that the administration's strategy on Syria "has completely fallen apart."
While Russia and Iran are fighting to protect Assad, Graham said, "we're not going to do a damn thing to help the people who want to make their country better by getting rid of the dictator in Damascus."
Carter said that Russia hasn't attacked the handful of U.S.-trained rebels in Syria -- who have been promised U.S. protection against Syrian attacks -- but he acknowledged that other opposition forces supported by the U.S.-led coalition against Islamic State have been struck.
Committee chairman Senator John McCain, an Arizona Republican, told Carter he was "making a distinction without a difference" and that those fighters "are American-supported and Coalition-supported men who are going in and being slaughtered."
After Kerry briefed members of the Senate Foreign Relations committee for almost two hours, its chairman, Republican Robert Corker of Tennessee, said he got the sense that the administration believes "that the role that Russia and Iran are playing in Syria right now is creating an opportunity for a diplomatic solution, which is what they're pursuing" in Vienna.
In Damascus, the Syrian presidency said in a statement on Tuesday that no initiative to end the conflict "can succeed or be implemented unless terrorism is eliminated and security and stability are restored to the country." The government has labeled all rebels fighting against Assad as terrorists.
Syrian Transition
The U.S. and Europe have insisted on a political transition that ends with Assad's departure, a condition of previous diplomatic agreements to bring the conflict to an end. Corker said he believed Kerry would go into the Vienna meetings looking to see whether enough common ground existed to reach an agreement.
Carter and Marine General Joseph Dunford, chairman of the Joint Chiefs of Staff, made clear to the Senate Armed Services panel that they saw little overlap between U.S. and Russian military goals. Dunford told the committee that the U.S. made clear to Iraq that "our continued support would be problematic if they invited the Russians in to conduct strikes" against Islamic State.
Carter said the U.S. received assurances last week from Iraq that they "will not work with the Russians."