U.S. Natural Gas Dip Below $2 Is Brief as Low Prices Buoy Demand
by
Gas inventories forecast to reach record at end of October

U.S. has biggest year-over-year supply glut for the season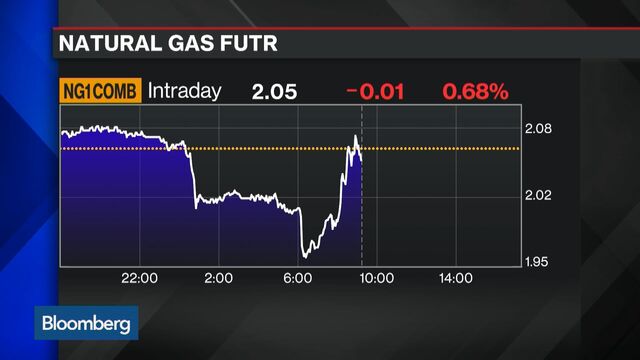 U.S. natural gas rebounded after dipping below $2 per million British thermal units for the first time since April 2012 on speculation that low prices and the approach of winter will ease a supply glut.
Unusually warm weather for this time of year is threatening to crimp gas demand just as caverns and reservoirs are filling up with supplies. The front-month contract fell as much as 5.5 percent Tuesday, extending Monday's 9.8 percent drop, after money managers last week raised bearish gas bets to an all-time high.
Low prices stoked demand. Total deliveries to consumers, from generators to households, were the highest so far this month than any October in LCI Energy data going back to 2007. U.S. gas consumption typically peaks in January.
"The market is staging a half-hearted recovery in reaction to the selloff," said Teri Viswanath, director of commodities strategy at BNP Paribas SA in New York. "While the near-term weather guidance is less than supportive, there appears to be some hope that the weather in November could turn around."
Gas for November, which expires Wednesday, gained 3 cents to settle at 2.092 per million Btu on the New York Mercantile Exchange after sliding to $1.948, the lowest intraday price since April 20, 2012. The more active December contract rose 0.9 cent to $2.361.
Unexpected Plunge
November options expire at the end of the trading day Tuesday. November $2 puts were the most active, slipping 2.1 cents to 0.1 cent on volume of 3,905 contracts at 2:29 p.m.
"The severe plunge over the last couple of days I find to be a little unexpected; it does show there are a lot of worries about supply going into a mild winter," said Gene McGillian, senior analyst at Tradition Energy in Stamford, Connecticut. "Right now we have priced in a lot of fear, and now the question comes down to whether the forecasts prove to be accurate."
The Bloomberg Intelligence index of natural gas production valuation peers fell 3.1 percent, widening the year-to-date loss to 43 percent. Shares of Chesapeake Energy Corp., the largest U.S. gas producer behind Exxon Mobil Corp., slid 7.7 percent to $6.58 at 2:31 p.m.
Weather Outlook
Seasonal temperatures from the Rocky Mountains to the East Coast over the next five days will give way to above-normal readings across most of the region on Nov. 1 through Nov. 10, according to MDA Weather Services. 
The high in Manhattan on Nov. 5 may be 66 degrees Fahrenheit (19 Celsius), 9 above normal, while Chicago will be 6 degrees warmer than usual, AccuWeather Inc. said on its website. About 49 percent of U.S. households use gas for heating, led by the Midwest and Northeast. 
Total U.S. gas demand is up 2.6 percent so far this month to an average of 64.6 billion cubic feet a day on Tuesday compared with September, representing the biggest percentage gain for the time of the year since 2008, LCI data show. The average demand change for the same period over the past five years was an increase of 0.7 percent.

Producers are using hydraulic fracturing and horizontal drilling to pull so much gas out of U.S. shale formations that stockpiles of the fuel are on track to reach a record 3.956 trillion cubic feet this month, based on a U.S. Energy Information Administration forecast. A supply glut to year-earlier levels is hovering at the highest mark for the time of the year in data going back to 2005. The glut prompted Goldman Sachs Group Inc. and Bank of America Corp. to cut short-term gas price forecasts last week.

While stockpiles will continue to expand through the first two weeks of November as existing wells add to the glut, the price drop will discourage new drilling, Tim Evans, an energy analyst at Citi Futures Perspective in New York, said in a telephone interview Monday.
Gas reaching $2 "definitely pressures the producers to cut back on investment, to cut back on drilling and leave a little bit of gas in the ground for later," said Evans. "In terms of the big-picture, boom-or-bust cycle, we are in the bust phase."
Gas inventories probably rose by 70 billion cubic feet last week, based on the median of nine analyst estimates compiled by Bloomberg. Estimates ranged from increases of 64 billion to 85 billion. The five-year average gain for the period is 73 billion.
Stockpiles totaled 3.814 trillion on Oct. 16, 13 percent higher than year-earlier levels in the biggest such supply glut for the time of the year since at least 2005, according to the EIA. The government is scheduled to release its next gas storage report on Oct. 29.
"It's a bad time to become bearish on natural gas, it really is," Evans said. "The lower we go, the more of a bargain it represents and the less sustainable the price becomes."
Before it's here, it's on the Bloomberg Terminal.
LEARN MORE