U.S. Stocks Slip Before Fed Amid Earnings Reports, Economic Data
by
Ford shares sink, Pfizer rallies following earnings results

'Wait-and-see mode' before Wednesday's Fed statement
U.S. stocks declined amid mixed earnings reports and data that renewed concern on the strength of the global economy as the Federal Reserve began a two-day monetary policy meeting.
A rally in equities has tapped the brakes as investors await the latest from the Fed. Policy makers kept interest rates near zero last month, opting to hold off for a better read on the impact of weaker growth in China and lackluster inflation. Central bankers in Europe and China last week signaled commitment to bolstering their economies, which helped the Standard & Poor's 500 Index erase a loss for the year.
Apple Inc. advanced following its earnings report after markets closed, while Twitter Inc. tumbled as its revenue outlook was below expectations.
The S&P 500 fell 0.3 percent to 2,065.89 at 4 p.m. in New York, after briefly slipping below its average price during the past 200 days. The Dow Jones Industrial Average slipped 41.62 points, or 0.2 percent, to 17,581.43. The Nasdaq Composite Index declined 0.1 percent, while the Russell 2000 Index lost 1.2 percent. About 7.2 billion shares traded hands on U.S. exchanges, 3 percent below the three-month average.
"We're in wait-and-see mode for the Fed," said Yousef Abbasi, global market strategist at JonesTrading Institutional Services LLC in New York. "We're definitely seeing softer data across the U.S., and more negatives than positives in earnings."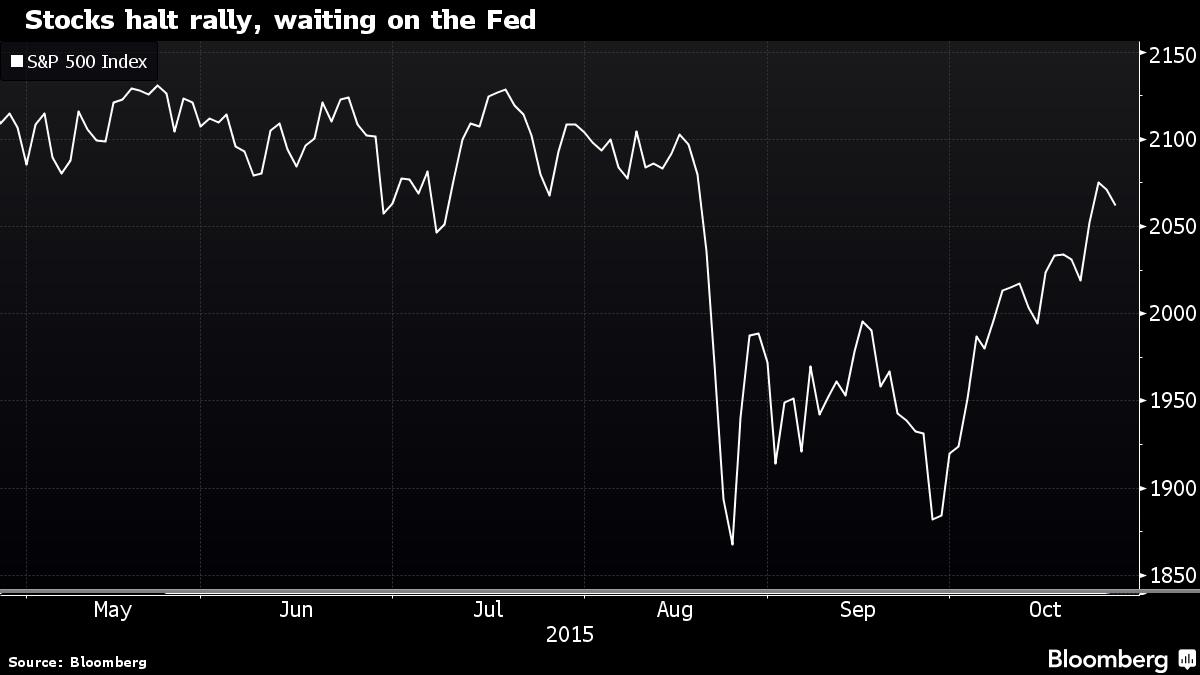 International Business Machines Corp. fell 4 percent to a five-year low. The company disclosed today that regulators are investigating its accounting treatment of certain transactions in the U.S., the U.K. and Ireland.
Ford Motor Co. lost 5 percent after its profit missed estimates, and United Parcel Service Inc. fell 2.9 percent as its sales were short of forecasts. Drugmakers Pfizer Inc. and Bristol-Myers Squibb Co. gained at least 2.2 percent after their profits topped projections. Alibaba Group Holding Ltd. rose 4.1 percent after its results beat estimates. Yahoo! Inc., which plans to spin off its Alibaba stake, climbed 2.7 percent.
More than 40 S&P 500 companies reported earnings today, with analysts projecting profits for index members dropped 6.1 percent in the third quarter. Of those that have released results this season, 74 percent have exceeded profit projections, while 57 percent missed sales estimates.
Apple rose 1.7 percent as of 5:09 p.m. after posting quarterly profit and sales that exceeded analysts' predictions. The company sold 48 million iPhones last quarter, up 22 percent from a year earlier and shy of analysts' average estimate of 48.5 million shipments. Its quarterly sales forecast for the critical holiday shopping season fell short of some analysts' forecasts, showing there may be a limit to the growth it can squeeze out of the iPhone.
Twitter sank 11 percent amid a fourth-quarter sales outlook that may miss estimates and another slowdown in user growth. In the U.S., the world's largest advertising market, Twitter's user count remained flat at 66 million last quarter.
As investors assess earnings, uneven economic data recently has meant a murkier outlook on how growth will fare under higher rates. A report today showed orders for business equipment unexpectedly declined in September as tepid global markets gave American companies little reason to expand. A separate gauge showed home prices in 20 cities rose at a faster pace in the year ended August, while another report said consumer confidence fell in October to a three-month low.
Fed Watch
While traders are pricing in little chance of the Fed raising rates in a decision tomorrow, they are seeking indications from the meeting on the trajectory of borrowing costs and the central bank's appraisal of the economy. March is the first month for which traders project at least even odds of a boost.
"Last week's rally was driven by central banks, so everybody is waiting to see what the Fed has to offer," said Heinz-Gerd Sonnenschein, a strategist at Deutsche Postbank AG in Bonn, Germany. "I don't think they'll give us much at all, but nobody wants to be caught on the wrong side. With no press conference, it will be a case of reading between the lines to interpret their statement."
An October advance in the S&P 500 stalled yesterday as the benchmark recovers from its worst quarter since 2011. The measure is about 3 percent away from a record reached in May and poised for its best monthly gain in four years after rebounding as much as 11 percent from an August low, propelled by gains in commodity stocks and global central-bank stimulus.
The Chicago Board Options Exchange Volatility Index rose 0.9 percent Tuesday to 15.43. The measure of market turbulence known as the VIX was higher for a third day, paring a monthly decline that's on pace for its biggest ever.
Energy Slumps
Eight of the S&P 500's 10 main industries were lower, with energy companies sliding the most for a second day. Oil continued its pullback to a two-month low before government data that's forecast to show U.S. crude stockpiles increased.
Consol Energy Inc. tumbled 21 percent, the most in seven years to stretch its lead as the benchmark's worst performer this year. The coal and natural gas producer reported a wider-than-expected quarterly loss. Chesapeake Energy Corp. lost 5.8 percent and Anadarko Petroleum Corp. sank 5.4 percent before its quarterly results. Chevron Corp. fell for a third day, down 1.2 percent, and has retreated in six of the last seven sessions.
Ford's slide was its biggest in more than a year, halting its longest rally in more than 17 years as higher taxes reduced the payoff from its aluminum-bodied F-Series pickups. General Motors Co. and parts supplier BorgWarner Inc. sank 2 percent.
Rent-A-Center Inc. plunged 30 percent, its biggest drop ever, after cutting its profit forecast and writing down outdated smartphone inventory. The Texas company is facing slowing sales in cities that rely on the oil industry, as well as sluggish demand for computers and tablets. Aaron's Inc., another rent-to-own chain, dropped 8.6 percent.
An index of S&P 500 transportation stocks posted its steepest drop in two months, dragged lower by declines of more than 2.9 percent in UPS and Union Pacific Corp. UPS fell the most in nine weeks as a drop in U.S. ground shipments hurt third-quarter sales. Kansas City Southern and CSX Corp. decreased at least 3.8 percent.
Trucking stocks dropped amid concern that slowing U.S. industrial activity is hurting cargo demand. XPO Logistics Inc. and YRC Worldwide Inc. each fell more than 10 percent. Truck makers were also under pressure, with Paccar Inc. down 6.7 percent after third-quarter sales missed estimates. Navistar International Corp. slumped 19 percent to an 18-year low. Engine maker Cummins Inc. dropped 8.7 percent, the most in three years, after quarterly profit disappointed and the company lowered its sales outlook.
Biotechs Rise
Biotech shares led gains among health-care companies which advanced for a third day. Biogen Inc. and Allergan Plc added more than 5.2 percent. Pfizer and Bristol-Myers rallied at least 2.4 percent. Pfizer's profit beat estimates after sales of Lyrica, a pain drug, and Ibrance, a breast cancer treatment, outperformed expectations. Bristol-Myers reported better-than-expected revenue from its oncology drug Opdivo and the start of U.S. sales for its hepatitis C drug.
Rite Aid Corp. soared 43 percent, the most ever. A person familiar with the matter said Walgreens Boots Alliance Inc. is close to a deal to acquire the drugstore chain. Walgreens rallied 6.4 percent, its best this year, while competitor CVS health Corp. gained 1.8 percent.
Coach Inc. reached its highest level since August, rising 4.4 percent after earnings topped analysts' estimates, driven by new styles and fewer discounts, the company said. While North American comparable-store sales declined 9.5 percent from a year earlier, that was an an improvement from the fourth quarter, when same-store sales fell 19 percent.
Before it's here, it's on the Bloomberg Terminal.
LEARN MORE