Orders for Business Equipment in U.S. Unexpectedly Decline
undefined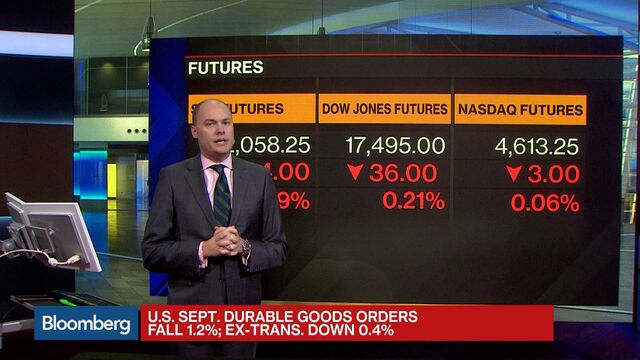 Orders for business equipment unexpectedly declined in September as tepid global markets gave American companies little reason to expand.
Bookings for non-military capital goods excluding aircraft dropped 0.3 percent after a 1.6 percent August decrease that was twice as large as previously estimated, according to a Commerce Department report on Tuesday. Demand for all durable goods -- items meant to last at least three years -- fell 1.2 percent.
Corporate investment may be slow to pick up until inventories are worked off and a pickup in foreign economies revives demand for commodities and U.S.-made goods. While weaker overseas sales have taken a toll on industrial companies from Caterpillar Inc. to 3M Co., stronger motor vehicle purchases have been supporting manufacturing.
"We're seeing the lingering impact of the global uncertainty that erupted over the summer," said Millan Mulraine, deputy head of U.S. research and strategy at TD Securities LLC in New York, who correctly projected the drop in capital goods demand. "This certainly isn't helpful for third-quarter growth. Any support from business investment will be modest at best."
The median estimate for orders for non-defense capital goods excluding aircraft, a proxy for future business investment in items like computers, engines and communications gear, called for a 0.2 percent gain.
Equipment Sales
Shipments of those goods, used in calculating gross domestic product, rose 0.5 percent after a 0.8 percent drop in August that was twice as much as previously estimated.
Bookings for machinery, transportation equipment and computers fell in September.
The survey median for all durable goods orders was a 1.5 percent decrease. August bookings declined 3 percent, revised from a previously reported 2.3 percent decrease.
The data reflected a 35.7 percent slump in bookings for commercial aircraft after an 11.2 percent decrease, according to the Commerce Department's report.
Boeing Co., the Chicago-based aerospace company, said it received 29 orders for aircraft in September, down from 52 in the prior month. Deliveries climbed to 77 from 64.
Excluding transportation equipment, orders dropped 0.4 percent after a 0.9 percent decrease a month earlier. They were projected to be little changed, according to the Bloomberg survey median.
Durable goods stockpiles fell 0.3 percent in September, while unfilled orders dropped 0.6 percent.
Industrial Production
Recent reports show bloated inventories and lukewarm demand from overseas customers are weighing on producers. Industrial production, which includes mines and utilities in addition to manufacturing, dropped 0.2 percent in September, according to the Federal Reserve. Factory output fell for a second month.
Automobile demand remains a mainstay for the industry, as the Commerce Department reported a 1.8 percent gain in orders for motor vehicles in September. Sales of cars and light trucks posted an 18.1 million annualized rate last month, the strongest since 2005, according to Ward's Automotive Group.
Consumer purchases, which account for about 70 percent of the economy, are getting a boost from progress in the job market and still-cheap gasoline while exports are weakening.
Fed policy makers, weighing whether to raise interest rates this year for the first time since 2006, are monitoring economic data for signs that uneven overseas growth and the stronger greenback are spilling over into the U.S. Central bankers begin a two-day meeting on Tuesday.
Before it's here, it's on the Bloomberg Terminal.
LEARN MORE