business
Thiel, Soros Said to Lead $25 Million Investment in TruMid
By and
TruMid gets boost in electronic bond-trading competition

A dozen firms including TruMid seek to transform bond market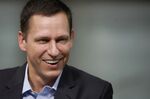 Venture capitalist Peter Thiel and billionaire George Soros are leading a $25 million investment in electronic bond-trading startup TruMid Financial LLC.
The New York-based company is among a dozen firms competing to transform the U.S. corporate-debt market as worries mount over the difficulty of trading the $8.1 trillion of securities in existence. The investment, which was joined by Jeff Bahl, the former head of U.S. high-yield credit trading at Goldman Sachs Group Inc. and other individual investors, would value TruMid at more than $100 million, according to people familiar with the deal, who asked not to be named because the matter is private.
Corporate bond trades have historically been struck over the phone between dealer banks and their clients. New capital requirements and restrictions on the risks banks can take with their own money -- regulatory responses to the financial crisis of 2008 -- have raised concerns that even as low interest rates have spurred a boom in the market, trading bonds has become harder.
"The days of a very skilled market maker that has the ability to set his or her own level of risk are over," Bahl, who is now a portfolio manager at Bahl & Gaynor Inc., said in an interview. "The business of trading bonds at banks is now glorified order taking."
The backing of two of the most prominent investors in technology and finance will give a boost to TruMid at a time when many of the crop of new bond-trading platforms face an uphill battle to change firmly entrenched behavior on Wall Street.

Thiel is best-known as one of the founders of PayPal and one of the first investors in Facebook Inc., while billionaire Soros has enjoyed a long and storied career as an investor.
Jeremiah Hall, a spokesman for Thiel, confirmed he had made an investment, while Michael Vachon, a spokesman for George Soros, declined to comment.
"This influx of capital supercharges our effort to enhance the TruMid user experience and our obsessive pursuit to improve corporate bond liquidity," Ronnie Mateo, TruMid's founder and chief executive, said in an interview.
TruMid's method of providing bond market liquidity borrows from a concept pioneered by Goldman Sachs, and known as GSessions. Instead of a continuous market for each security, TruMid runs what it calls "swarms," or brief sessions where asset managers and dealer banks can come together to buy and sell a particular bond.
TruMid has also hired liberally from the ranks of former bank traders, tapping sell-side veterans including Ravi Singh and Chris Ruggiero from Goldman Sachs, Mike Sobel from Barclays, and Deutsche Bank's Michael Gorun.
"In the end, the key is getting people to trade, which Ronnie can do," Bahl said.
TruMid said it has seen more than $50 billion in order volume and $2.5 billion in executed trades since its platform launched six months ago, just after the company was valued at roughly $75 million.
Daily order volume currently totals about $750 million across both investment-grade and junk-rated bonds, the company said, and the average trade size is $2.5 million.
MarketAxess Holdings, the dominant platform in electronic corporate bond trading, reported $82.5 billion of trades for September alone. Bloomberg LP, the parent of this news organization, also has a platform for trading corporate bonds.
Before it's here, it's on the Bloomberg Terminal.
LEARN MORE