T-Mobile Profit Misses Estimates on High Cost of User Growth
by
Promotional offers and data giveaways pressure bottom line

T-Mobile increases 2015 forecast for subscriber growth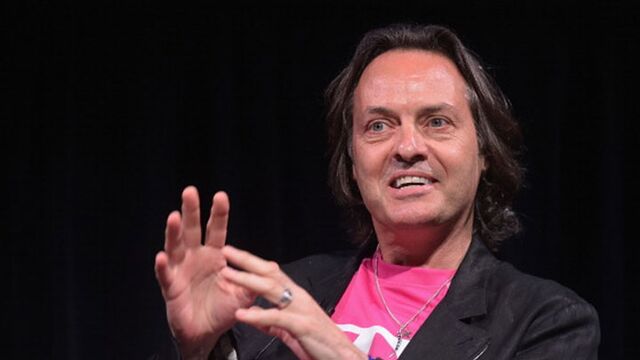 T-Mobile US Inc. reported profit that missed analysts' estimates as giveaway promotions like free music streaming and price cuts on service plans that helped lure more than 1 million new monthly subscribers put pressure on the bottom line.
Third-quarter earnings were 15 cents a share, Bellevue, Washington-based T-Mobile said in a statement Tuesday. Analysts anticipated 31 cents, the average of estimates compiled by Bloomberg. The shares fell the most in more than 10 months.
T-Mobile, led by self-styled rebel and Chief Executive Officer John Legere, bills itself as the "un-carrier" and uses low-cost plans along with phone leasing and rollover data allotments to draw customers from larger rivals Verizon Communications Inc. and AT&T Inc. As it forecast last month, the third-largest U.S. carrier added 1.1 million postpaid users -- the more lucrative subscribers with higher credit quality that add multiple devices and use more data. The profit miss underscores the high costs associated with competing on price to sustain user growth.
"Subscriber growth is the most important metric for T-Mobile but they need to show profit growth," Walt Piecyk, an analyst at BTIG LLC, said in a phone interview.
T-Mobile fell 5.7 percent to close at $39.02 in New York. The shares have climbed 45 percent this year, while AT&T has dropped 1.1 percent. Shares of Deutsche Telekom AG of Germany, which owns about 66 percent of T-Mobile, dropped 1.3 percent to 16.86 euros in Frankfurt.
T-Mobile raised its forecast for 2015 postpaid net customer additions to 3.8 million to 4.2 million, from the previous guidance of 3.4 million to 3.9 million.
In the third quarter, the carrier added 843,000 monthly phone subscribers -- a number that excludes tablet users. That was less than the average 861,000 predicted by five analysts surveyed by Bloomberg.
Wireless service margin on earnings before interest, tax, depreciation and amortization widened to 30 percent, about in line with the 29.8 percent analysts predicted. The average customer's monthly phone bill was $47.99, compared with projections for $47.69.
Before it's here, it's on the Bloomberg Terminal.
LEARN MORE