South Korea to Raise Defense Spending to Deter Threat From North
by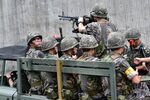 South Korea plans to raise defense spending by 4 percent next year, more than the average for the entire budget, as President Park Geun Hye sees stepped up military readiness as a way to pressure North Korea to seek dialogue.
The increase comes after signs that North Korea has been expanding its nuclear arsenal and improving the range of its missiles. Tensions between the countries came to a head during a military standoff in August that may have provoked an exchange of artillery fire. The incident prompted talks on improving ties and led this month to the first reunions of families separated by the Korean War in more than a year.
"We were able to confirm this past summer that the door to normal dialogue and cooperation can be opened when we maintain our national defense without a gap based on firm principles," Park said Tuesday in a televised speech at the National Assembly in Seoul.
Defense spending accounted for 14.5 percent of South Korea's 2015 national budget of 375 trillion ($331 billion) won. South Korea has been increasing spending on high-tech weapons in recent years to be able to conduct a preemptive strike in the event North Korea shows signs of launching a nuclear attack.
Before it's here, it's on the Bloomberg Terminal.
LEARN MORE