business
Tusk Sees Threat to Borderless Travel as Slovenia Eyes Fence
By and
Slovenia may join Hungary in erecting fence if EU plan fails

Crisis has potential to create `tectonic' changes in Europe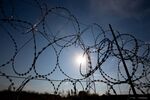 Warnings of an end to visa-free travel intensified in the European Union as Slovenia said it may join Hungary in fencing off its borders if the bloc fails to help countries on its southeastern fringe.
Slovene Foreign Minister Karl Erjavec said the Adriatic nation will "adopt all measures" to ensure the safety of its citizens and migrants if the situation worsens and the accord reached Sunday in Brussels isn't implemented, STA news service reported Tuesday. EU President Donald Tusk said the bloc must protect its external frontiers. He echoed an alarm issued Monday by Italian Foreign Minister Paolo Gentiloni, who said free-movement of people, one of the EU's founding principles, may be at risk.
"This challenge has the potential to change the European Union we have built," Tusk told EU lawmakers on Tuesday in Strasbourg, France. "It has the potential to create tectonic changes in the European political landscape, and these are not changes for the better."

The leaders of 11 EU and Balkan countries agreed on a 17-point plan on Sunday that offered short-term fixes for the 1 million or more migrants expected in the bloc this year. The deal includes sending about 400 policemen to help Slovenia control its borders, emergency housing for as many as 100,000 refugees, a stepped-up registration system and bolstering policing on the EU's southeastern edge.
Still, with winter approaching, countries continue to squabble over longer-term solutions. Many Balkan countries say they're being overwhelmed after German Chancellor Angela Merkel said last month there could be no limit on asylum for those who meet the conditions. That coincided with a shift in the route taken by migrants that once led mainly through Libya to Italy. Now most are winding from Turkey to Greece, through the Balkan states, and then further north.
Divergent Policies
Complaining about a lack of coordination in the EU, countries have embarked on divergent policies. Many eastern members oppose a German-led push to redistribute the refugees across the bloc with mandatory quotas, saying the migrants don't want to stay on their territory. Amid the bickering, Hungary has drawn criticism for fencing off its borders, while Slovenia has complained Croatia is waving migrants through. The Republic of Macedonia says its southern neighbor Greece is doing the same, without following the rules that arrivals must be registered in the first EU state they enter.
Such squabbling helped prompt European Commission President Jean-Claude Juncker to call Sunday's meeting in Brussels and he said on Tuesday that national cooperation already had improved.
"We are putting an end to all beggar-thy-neighbor policies," Juncker told the European Parliament. "Instead, countries shall help their neighbors by telling each other what they are doing."

The number of migrants who have crossed into Slovenia, which became a bottleneck after Hungary shut its borders with Serbia and Croatia, has risen to 85,000 since Oct. 17, its police said in a statement. There are still more than 5,000 migrants traveling through EU aspirant Serbia each day, according to Mirjana Milenkovski, of the United Nations High Commissioner for Refugees. Among them, an unprecedented 55 percent are women, she said. In the latest total, 54 percent were from Syria, 34 percent were from Afghanistan and the rest were from Iraq, Pakistan and 16 African countries, according to the UNHCR.
The refugees continue to be "in a great hurry" to reach their intended destinations, Milenkovski said by phone on Tuesday. While many of the migrants are traveling with infants, "some are reluctant to pause for humanitarian aid that they actually need," she said.
— With assistance by Jones Hayden
(Adds comments by EU's Juncker in eighth paragraph.)
Before it's here, it's on the Bloomberg Terminal.
LEARN MORE