business
Singapore Is Still The Easiest City To Do Business In, World Bank Says
By
Australia drops from top 10 of World Bank's annual ranking

U.S. stays in seventh place, Japan slides five spots to 34th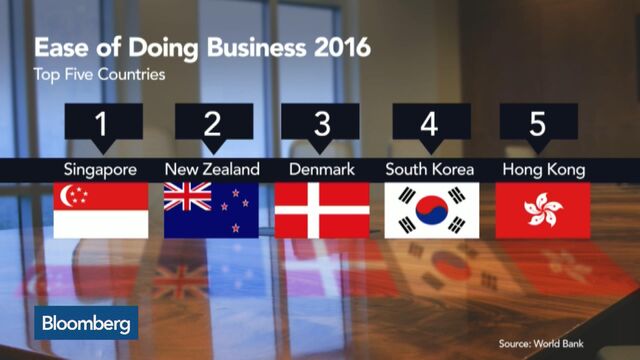 Singapore retained its status for a 10th straight year as the easiest country in which to do business, while emerging markets such as China and India moved up the rankings, according to the World Bank.
Australia fell out of the top 10, dropping to 13th in the World Bank's annual Doing Business report. It was replaced by Sweden, which had previously been ranked 11th. The U.S. remained in seventh place and Japan slid five spots to 34th place. China rose six spots to 84th, while India climbed 12 places to 130th out of 189 economies, including Hong Kong and Taiwan.
The report ranks countries based on 11 indicators such as ease of starting a business, dealing with construction permits, getting electricity and obtaining credit. The best 30 performers stand out because they have rules that allow "efficient and transparent functioning of businesses and markets," not because they have little regulation, the Washington-based development lender said in the report.

The rankings have become a focus for Indian Prime Minister Narendra Modi, who has set a goal of reaching the top 50 by 2017.
Since the ranking was created in 2003, low-income countries have improved more than their high-income counterparts, according to the report.
"As they have an opportunity to look at best business practices in some of the better-performing countries in the world, they are beginning to adopt many of these practices," Augusto Lopez-Claros, director of the global indicators group at the World Bank, said on a conference call with reporters this week.
New Zealand was ranked second, followed by Denmark, South Korea, Hong Kong, the U.K., the U.S., Sweden, Norway and Finland.
Eritrea was the worst-ranked country, behind Libya, South Sudan and Venezuela.
Before it's here, it's on the Bloomberg Terminal.
LEARN MORE