Russia to China: What's a Few Dozen Basis Points Among Friends?
by and
Government seeking to sell debut yuan bond on China's mainland

U.S., European sanctions have pushed Russia to look eastward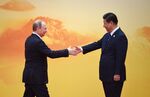 Cornered by sanctions, Russia is preparing a costly alternative venue to sell debt: China.
Vladimir Putin's government, which set a $3 billion cap on foreign borrowing in 2016 and hasn't sold Eurobonds in two years, is preparing a "pilot issue" of medium-maturity yuan notes on China's mainland market, according to Konstantin Vyshkovsky, the head of the Finance Ministry's debt department. Russia will need to pay at least "dozens of basis points" more than the cost of placing dollar debt to tempt investors, he said.
"We are talking about a new category of foreign investors," Vyshkovsky said in an interview last week. Convincing Chinese investors to buy the debt via the Russian exchange and settlement systems "makes the task doubly complicated," he said.
The pivot east comes after sanctions over the conflict in Ukraine forced Russian borrowers to pay what Vyshkovsky called a "premium for geopolitics." Putin is nurturing ties with his country's largest trading partner by clinching Russia's first-ever gas accord with its bigger neighbor last year and becoming the only state leader representing China's wartime allies to attend a military parade in Beijing in September.
New Pocket
"This makes a lot of sense try to develop this new pocket of demand," Luis Costa, the chief fixed-income strategist for Central and Eastern Europe, the Middle East and Africa at Citigroup Inc. in London, said by phone. "It looks to me like a good decision."
More than a year into life under sanctions, the takeaway for Russia is that the penalties have done little to spook investors, according to Vyshkovsky. Foreigners snapped up about a fourth of the debt offered during debut sales of inflation-linked securities this year, with Russia "testing" investors by selecting sanctioned banks to organize its road show, he said.
While Russia isn't prohibited by sanctions from sovereign borrowing, the penalties combined with the collapse of oil prices is stoking the nation's borrowing costs.
Costs, Risks
"Of course, the cost of borrowing has increased, the risks have increased," Vyshkovsky said. "But we find that when it comes to an interesting and convenient tool for investors, the question of sanctions fades into the background."
The first sale of mainland Chinese yuan bonds by a foreign government would show how Russia is continuing to rewire its finances by testing a new source of capital as its budget deficit swells in 2015 to the widest in five years. Chinese offshore investors have already bought about $1 billion in ruble-denominated government debt this year, according to Vyshkovsky.
Russian companies have so far only tapped China's offshore market, with sales from Gazprombank OJSC, Russian Agricultural Bank OJSC and VTB Bank OJSC in the past three years. Russian Agricultural's 2016 yuan bonds have rallied since September, pushing yields to 12.41 percent by 7:20 p.m. in Moscow on Wednesday from as high as 19.94 percent on Sept. 9. Dollar-denominated bonds due the following year yielded 4.95 percent.
'Positive Level'
Russia's sovereign yuan debut next year would set a benchmark for corporate issuers, according to Sergey Shvetsov, the central bank first deputy governor who oversees financial markets. This pilot project will help develop domestic infrastructure and aid Chinese investors in accessing the Russian market, he said.
"Even now we can see a positive level in relations created between Russia and China," Shvetsov said by e-mail. "That's allowed us to assume that 2016 is a realistic time frame to carry out the issuance."
Russian authorities are focusing on "the technical aspects" of a sale in China, according to Vyshkovsky, who declined to specify the amount that may be offered. The Russian central bank is in talks with its counterparts in China, whose regulators need to hand down their approval, he said.
Selling yuan debt to onshore investors will still entail "losses, risks and expenses" for Russia and that's putting a brake on the issue, Vyshkovsky said. If no "pilot" yuan offering takes place next year, Russia may opt for "at least one" sale in dollars or euros, in case market conditions will be favorable, he said.
Before it's here, it's on the Bloomberg Terminal.
LEARN MORE