Brazilians Expect Crisis to Linger for at Least 3 More Years
by and
Majority Sees Budget Tinkering as Reason for Impeachment

First Poll After Opposition-Backed Impeachment Request Filed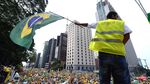 Dilma Rousseff's popularity remained near record lows as the majority of Brazilians forecast Latin America's biggest economy won't recover from the current crisis for at least another three years.
Rousseff's personal approval rating was 15.9 percent compared with 15.3 percent in the previous poll in July, according to an Oct. 20-24 MDA poll published by the National Transport Confederation. The gain was within the plus or minus 2.2 percentage point margin of error. The poll also showed 63.6 percent of those surveyed expect the crisis to last at least three more years as unemployment rises, inflation accelerates and the economy contracts.
The president's support has become a key gauge for legislators weighing whether to back calls for her ouster. It is the first major public opinion survey since lawyers endorsed by opposition parties submitted a request to impeach Rousseff on allegations she doctored fiscal accounts.
The audit court's recommendation for Congress to reject Rousseff's 2014 fiscal accounts is sufficient to impeach her, according to 61.3 percent of those surveyed by MDA who were aware of the decision. The poll shows 8.8 percent of respondents rated the government good or very good compared to 7.7 percent in July.
Rousseff's popularity may have bottomed out, MDA director Marcelo Souza told
reporters in Brasilia."It's difficult for President Dilma's approval ratings to fall even further," Souza said.
Lower house speaker Eduardo Cunha is analyzing the impeachment petition and is expected to make a decision in coming weeks. The process could involve several votes in Congress and ultimately result in Rousseff's removal from office. The president denies wrongdoing.
Other polls published in recent months also show Rousseff's popularity hovering near record lows. Approval of Rousseff's management was 14 percent last month, compared with 15 percent in June, a drop within the margin of error, according to a Sept. 18-21 Ibope poll commissioned by the National Confederation of Industry. An Aug. 4-5 poll conducted by Datafolha showed 8 percent of Brazilians evaluated her government as good or great.
Brazil's economy will contract 3 percent this year and 1.4 percent in 2016, according to analysts surveyed by the central bank. That would be the first back-to-back recession since 1931.
Before it's here, it's on the Bloomberg Terminal.
LEARN MORE