Perrigo's Papa Confident Shareholders Will Reject Mylan Offer
by
Papa says Mylan's hostile offer is ``bad deal'' for investors

Long-term shareholders don't support $27.1 billion offer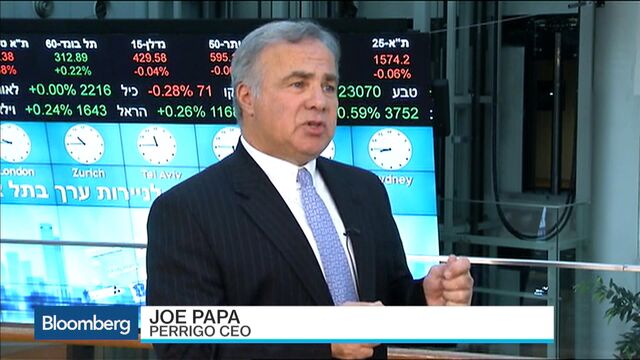 Perrigo Co. Chief Executive Officer Joseph Papa, who made an impromptu visit to Israel this week to woo large investors, said he's confident shareholders are unlikely to accept a hostile $27.1 billion takeover bid from Mylan NV.
Papa called the offer a "bad deal" in an interview with Bloomberg Television's Elliott Gotkine, and said it's unlikely to win shareholder support by the Nov. 13 deadline. In a presentation to investors at the Tel Aviv Stock Exchange earlier today, Papa and Chief Financial Officer Judy Brown stressed that Perrigo is likely to deliver higher growth as a standalone company and combining with Mylan would be risky for investors.
"I don't think one can ever say something is 100 percent, but we have a very high level of confidence in the fact that our long-term shareholders recognize that this is a bad deal," Papa said from the exchange. "The financial metrics simply do not work for this transaction."
Israeli Clout
Israeli investors together hold about 12 percent of Perrigo, a maker of over-the-counter and generic drugs, after a 2005 acquisition prompted the company to list in Tel Aviv. That large block of investors might prove crucial because Mylan has said that it will proceed with the acquisition as long as at least 50 percent of Perrigo shares are tendered.
Papa and Brown emphasized Perrigo's commitment to Israel, pointing to its listing on the Tel Aviv bourse and employment of over 1,000 workers locally. Brown, who peppered her presentation with Hebrew words, sought to remind investors that a sale may undermine operations for the second-largest publicly held company in Tel Aviv.
To counter that, Mylan has in recent months also dispatched its top executives to Israel and signaled that it would list shares in Tel Aviv. A Mylan spokeswoman today didn't immediately reply to an e-mailed request for comment before U.S. office hours.
Perrigo rose 2 percent to 603.50 shekels as of 1:44 p.m. in Tel Aviv today. The stock has dropped 7.7 percent this year.
Job Cuts, Repurchase
As part of Perrigo's efforts to convince investors to reject Mylan's proposal, Papa last week pledged to cut 800 jobs and buy back $2 billion of shares to boost returns. He also stressed on Tuesday that Perrigo is capable of delivering better growth through its own acquisitions, rather than through a sale to Mylan.
"Once we get beyond this Mylan situation, we'll look at other opportunities as far as M&A is concerned," Papa told reporters in Tel Aviv. "We've been very active ourselves in M&A and I do expect we'll be doing more deals."
Papa also didn't close the door on Perrigo eventually being acquired.
"We are not against selling ourselves, but I think it's natural for us to acquire more businesses," he said.
Mylan took its proposal directly to shareholders on Sept. 14, offering $75 in cash and 2.3 Mylan shares for each Perrigo share. Investors have until 8 a.m. New York time on Nov. 13 to sell their shares. 
Stake Threshold
More than 80 percent of the shares being sold would make Mylan's takeover offer successful under Irish takeover law. Mylan has said it would proceed with the takeover even if more than 50 percent of the shares are sold, an approach Perrigo's Brown said today would create a "pharmageddon" with two managements within one company.
Perrigo makes prescription and over-the-counter drugs that Mylan is seeking to add to its lineup. About half of Perrigo's $4.06 billion in revenue last year came from its consumer health-care division, including store-brand versions of popular medicine like Sudafed and NyQuil, sold in retailers such as Wal-Mart and Walgreens.
Before it's here, it's on the Bloomberg Terminal.
LEARN MORE