Procter & Gamble Cleans Up for the NFL as Part of Play for Business Customers
by
Facing consumer slump, companies pursue professional market

Clorox, Kimberly-Clark also seeking more corporate customers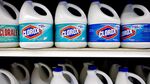 Procter & Gamble Co. sells a substance that dissolves chewing gum, and Clorox Co. offers a urine remover powerful enough for public restrooms. But you probably won't find these products at your local supermarket.
The items are sold by the companies' professional divisions, which have become a source of growth for the moribund consumer-products industry. Facing sluggish sales of shopper staples like Tide and Pampers, companies are increasingly relying on business customers. P&G devises laundry strategies for Hilton Hotels, Dunkin' Brands and National Football League teams. The pro division of Kimberly-Clark Corp., meanwhile, sells welding helmets and cleaning wipes for airplanes.
P&G's professional unit has almost doubled its revenue over the past decade -- a sharp contrast to the rest of the company, which is projected to report its third straight year of shrinking sales.
"We look at this as being a huge opportunity in a huge market," Eric Hetrick, the head of P&G's professional unit, said in an interview.
Tougher Competition
While consumer-products giants have always sold products to businesses, they're under more pressure than before. Their go-to customers -- moms -- are less loyal to brand names these days. Shoppers are seeking lower prices, and more affluent consumers are switching to upstarts like Method Products.
P&G, the world's largest consumer-products company, has adapted to the shift by offloading languishing brands and businesses. But now it needs to rebuild its sales base, something corporate customers could help with. The company estimates that the U.S. commercial laundry market alone could now be worth $1.3 billion a year.
The professional market is growing for a number of reasons. More businesses are looking outside for help with laundry and other services, and big companies like P&G can push out smaller players from a fragmented industry. Consumer companies also can take innovations that they developed for the home and bring them to the professional market, and vice versa, said Erin Lash, an analyst at Morningstar Inc.
Health Care
Other makers of household goods have professional divisions. Kimberly-Clark and Clorox sell cleaning products to health-care facilities, hotels and offices. Clorox Chief Executive Officer Benno Dorer cited its professional business as a "growth driver" during the company's last earnings call.
Kimberly-Clark, best known for Kleenex and Huggies, gets about 17 percent of its sales from professional products. The division outperformed the rest of the Dallas-based company last year.
P&G, which doesn't disclose how much revenue comes from the professional market, could use a boost. On Friday, P&G reported a 12 percent decline in quarterly revenue to $16.5 billion, worse than what analysts had estimated. It also lost market share to rivals in its home market, Chief Financial Officer Jon Moeller said on a conference call.
"We don't like the top-line situation," Moeller said. "We will fix the top line."
That task will fall to David Taylor, who becomes P&G's next CEO at the beginning of November. He takes the reins from the 68-year-old A.G. Lafley, who served two terms as CEO and oversaw the sale of about 100 brands.
'Bright Future'
With the company refocusing on growth, the pro division could be in the spotlight. There are opportunities to expand the business, which has a "very bright future," P&G said after its earnings last week.
P&G's professional unit dates back to the 1920s, when the company formed an outlet to sell its excess oil and shortening to other businesses. These days the operation rejiggers existing consumer products to develop substances that can stand up to heavy use. That includes designing a cleaner that can strip ziti and lipstick stains from fabrics, for example, and a "whiteness enhancer" that ensures linens keep their snowy hue.
P&G also developed a formula to soften linens and towels. Normally, a hotel would use an alkaline detergent, then add multiple rinse cycles or an acidic solution to offset the caustic cleaner. That creates calcium deposits that make laundry feel rough and cause wear and tear, Hetrick said.
Instead, P&G developed a detergent that's a near-neutral pH. It's gentler for workers to handle and can be used with cold water, he said.
NFL Uniforms
The Cincinnati-based company also has won over NFL teams, including the Kansas City Chiefs. Allen Wright, the squad's head equipment manager, began using P&G's laundry products about two years ago after a new head coach complained that the whites in the uniforms looked yellow. Switching to P&G fixed the problem, said Wright, who works with a staff of 150 and goes through 800 towels a day during training.

The Internet also has spurred demand for cleaning help, P&G's Hetrick said. A hotel can be instantly shamed worldwide for having stained towels or a dirty bathroom, raising the stakes for them to get it right.
"In the days of Yelp and TripAdvisor," he said, "we have consumers who are being very vocal about what they've experienced."
Before it's here, it's on the Bloomberg Terminal.
LEARN MORE