Natural Gas Heading Toward a 13-Year Low? Don't Tell Boston
by
Gas deliveries into New England are three times futures prices

Transmission work, pipeline constraints limit supplies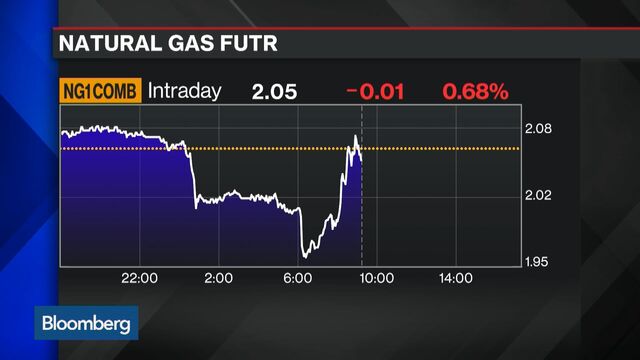 U.S. natural gas futures came within pennies of setting a 13-year low as traders grappled with the consequences of a supply glut. Don't tell Boston.
Gas deliveries into New England were trading at triple the level of the benchmark futures in New York. Spectra Energy Corp.'s Algonquin gas pipeline reported maintenance-related capacity constraints this week on compressor stations near the Hudson River in New York to Connecticut. Higher gas costs coinciding with reduced imports of cheap hydropower because of transmission work also boosted New England electricity prices to a one-month high. 
The region hasn't built a major pipeline in decades while reliance on the fuel has increased with the shale-gas boom and the shutdown of coal and nuclear power plants. Gas and power prices can suddenly surge when pipeline flows are reduced or demand increases because of cold or hot weather.
"New England is its own world in the gas market because of pipeline capacity constraints going into the region," said Gene McGillian, senior analyst at Tradition Energy in Stamford, Connecticut. "If you get a period of sustained cold, the lack of gas going into the region is going to boost prices."
Gas for next-day delivery at the Algonquin City Gates, which includes Boston, jumped 27 percent on Monday to $6.584 per million British thermal units on the Intercontinental Exchange, the most since April 7. Natural gas futures, based off of the Henry Hub in Louisiana, dipped to $1.948 on Tuesday, a few cents shy of breaking the 10-year intraday low of $1.902 touched on April 19, 2012.

Algonquin reported that maintenance this week will reduce capacity at the Stony Point compressor station, about 43 miles (69 kilometers) north of the New York Mets' Citi Field stadium in Queens, and at a meter station in Brookfield, Connecticut. As a result, capacity will also be cut at the Oxford compressor station in Connecticut on Oct. 28 through Nov. 9, according to a Spectra website notice Tuesday.
Electricity imports from Hydro Quebec dropped off because of a scheduled outage on the Phase I and II high-voltage transmission lines since Oct. 23, said Natalia Mestvirishvili, a Boston-based power analyst for Genscape Inc. 
"The peak of maintenance season is causing strong electric prices in New England," she said. 
Average spot wholesale power for the hub serving Boston and Northeast Massachusetts jumped 73 percent to $57.71 a megawatt-hour as of noon Tuesday, heading for the highest daily average since Sept. 30.
Pipeline constraints have been contributing to higher gas premiums in New England for the past several years as power plants burn more. While there is plenty of space on pipelines to get fuel into the region most of the year, it gets more expensive when heating demand kicks in from households and businesses. 
ISO New England Inc. is putting in place a winter reliability program for the third straight year to spur generators to stockpile fuel oil and import liquefied natural gas to help reduce power price spikes during cold snaps.
Gas-fired plants accounted for 66 percent of generation produced on the grid serving Connecticut through Maine at 10:43 a.m., up from about 48 percent the same time last year, according to ISO New England's website.
Before it's here, it's on the Bloomberg Terminal.
LEARN MORE