Mas's Grip on Catalonia Slips as Ally Balks at Party Graft Claim
by
Treasurer of Mas's party arrested as part of a court probe

Main separatist alliance missed majority in September vote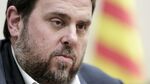 Acting President Artur Mas's bid to retain control of Catalonia may be faltering with his most important ally voicing "disgust" as graft allegations buffet the governing party and signaling the push for independence could advance with someone else at the helm.
Oriol Junqueras, who subsumed his group into a broad separatist alliance with Mas for last month's regional election, said the arrest of officials from the regional leader's party is damaging as lawmakers try to put together a coalition to push ahead with their attempt to break away from Spain. Their platform, Junts pel Si, fell just short of a majority in the Sept. 27 ballot leaving the separatist cause dependent on an anti-capitalist party, CUP, that has insisted it won't back Mas as president.

"Any personal contribution is obviously less important than the collective project," Junqueras said in an interview at the regional parliament in Barcelona, Monday. "It's not good for anyone, not for Catalan society in general or for any democratic society for there to be suspicions or accusations against their political representatives."
The Catalan leader has survived a string of electoral setbacks and a schism in his party over the past three years as he plowed ahead with a campaign to win independence from Spain that upset some of his traditional supporters. Now corruption allegations are complicating his efforts to secure a third term in office.
Police Raids
The treasurer of Mas's party, Convergencia, and the regional government's head of infrastructure were among 10 people arrested last week as part of an investigation into bribery allegations. Mas, who hasn't been directly linked to any of the allegations, has until January to either reach a deal that gives him a majority, step aside, or call fresh elections.
"We hope that the judges resolve the shadows and doubts and suspicions and interests that could be found anywhere in an effective and speedy fashion," Junqueras said.
Anti-corruption prosecutors at a court in Tarragona, Catalonia, are examining evidence gained from two raids on the Barcelona headquarters of Convergencia as they investigate political donations by companies that won contracts from city halls that were controlled by Mas's party. Officials from Mas's party have said the raids were politically motivated.
"Corruption gives us a deep sense of disgust," Junqueras said. "I view it with an enormous concern."
While Junqueras says that Mas is still Junts pel Si's candidate for Catalonia's presidency, that's still subject to a negotiation with the president opponents in the CUP. Junqueras said he can envisage a "successful" outcome to those negotiations negotiations but he's more interested in the separatist cause than who will be its figurehead.
"What's really important is the what, the how and the when," he said.
Before it's here, it's on the Bloomberg Terminal.
LEARN MORE