Ivory Coast President Ouattara Leads in Early Vote Counting
by and
Electoral Commission says 60% of voters cast their ballots

One opposition candidate concedes defeat to Ouattara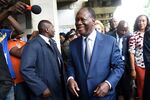 Ivory Coast President Alassane Ouattara took the early lead in results from Sunday's election, setting up the former economist for another five-year term ruling the world's biggest cocoa producer.
Ouattara, 73, was ahead in 15 of the 16 municipalities that have been counted, news website Abidjan.net reported, citing the electoral commission. The incumbent received between 66.9 percent and 98.3 percent of the votes in the localities.
Top opposition candidate, Pascal Affi N'Guessan, who heads the former ruling Front Populaire Ivoirien, led in one municipality and was second in 12 others. Affi N'Guessan obtained 59.5 percent of the votes in the eastern town of Bongouanou, while Ouattara secured 38 percent.
The electoral commission said Monday about 60 percent of registered voters cast their ballots in the election. Ivorian civil society group Poeci, which has been monitoring the elections, said in an e-mailed statement it observed a turnout of about 53 percent. Both numbers are below the 84 percent that voted in 2010.
Sunday's voting was the first since 2010, when former President Laurent Gbagbo refused to step down after losing to Ouattara. The violence that came after left about 3,000 people dead and the economy collapsed. Since taking power in 2011, Ouattara has focused on rebuilding the economy, pledging to spend about $25 billion until 2020 on infrastructure projects and boosting economic growth to about 10 percent annually.
"As we're coming out of the crisis, we couldn't expect a high turnout," Marie-Paule Kodjo, Poeci spokeswoman, said by phone from Abidjan. "However, the election was peaceful and Ivorians did go to vote. That's a reasonable result."
The vote "was peaceful, transparent, credible, and inclusive," the U.S. Embassy in Abidjan said in an e-mailed statement.
The Ivorian opposition was fractured and three opposition leaders dropped out of the race before the vote because they alleged the vote wouldn't be fair. Bertin Konan Kouadio, one of the six opposition candidates, acknowledged Ouattara as the winner on Monday.
"Based on the figures compiled by my representatives in the polling stations throughout the country, I recognize defeat and I congratulate Alassane Ouattara for his victory," Kouadio said by phone.
Before it's here, it's on the Bloomberg Terminal.
LEARN MORE