Here's One Europe Central Bank Turning Corner With Its Currency
by
Sweden seen easing policy this week after ECB's signal on QE

Yet Riksbank still seen tightening in 2016; krona to gain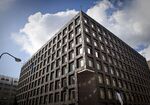 Next year's looking like when Sweden will finally learn to live with a stronger krona.
After another bout of easing this week to counter the extra stimulus hinted at by the European Central Bank, the Riksbank will start reining in the measures it's been using to combat deflation, according to Nordea Bank AB, Scandinavia's biggest lender. SEB AB, the region's top currency trader, says the change of tack will send the krona surging about 6 percent against the euro by March, more than wiping out the declines caused by interest-rate cuts and bond purchases.

There's a sense that, unlike their counterparts in Frankfurt or Zurich, Sweden's policy makers can tolerate a stronger currency as the economy shows the first signs of persistent growth in consumer prices.
"They can live with it," said Carl Hammer, chief foreign-exchange strategist at SEB in Stockholm, who sees the krona climbing to 8.85 per euro in the first quarter of 2016, from 9.3904 as of 8:10 a.m. New York time on Tuesday. "They cannot continue on the path of following the ECB, and that ultimately is the factor that will bring a market positioned to short in krona to start to buy back the krona."
While most banks aren't as bullish as SEB, the median estimate in a Bloomberg survey still puts the krona more than 1 percent stronger by the end of the first quarter at 9.28 per euro.
That's the biggest anticipated gain among major currencies after the dollar and pound -- even taking account of the krona's jump from a three-week low when ECB President Mario Draghi signaled last Thursday that the bank will probably expand its stimulus program in December.
Not Derailed
While the ECB chief's comments make it more likely Swedish officials will cut interest rates or boost their own quantitative-easing program when they meet on Wednesday, they'll still seek to tighten policy next year, according to Nordea. It sees the krona climbing to 9.3 per euro by June and 9.1 by the end of 2016.
"At least, we'll see a tightening of policy in Sweden before we see it in the euro zone," said Niels Christensen, chief currency strategist at Nordea in Copenhagen. "We see a case for a stronger krona."
The krona was the second worst-performing major currency versus both the euro and dollar in 2014, hitting a 4 1/2-year low against its European peer in December. It has leveled off since the Riksbank implemented a negative interest rate and QE program in February, but is still down about 4 percent since Sweden started cutting borrowing costs four years ago.
Turning Corner
Ex-Riksbank Deputy Governor Karolina Ekholm, now a finance ministry official, said Oct. 19 that those measures are starting to revive the economy. The central bank forecast in September that a trade-weighted measure of its currency would climb about 3 percent over the next 12 months.
After years suffering the worst deflation in the Group of 10, Sweden has posted four increases in annual consumer prices in 2015.
While September's 0.1 percent rate is still way below its 2 percent target, the central bank predicted last month it would match its goal next year. That's just as well as pressure is building on officials to raise interest rates to burst a bubble in the housing market.
Inflation is meanwhile going in the wrong direction for policy makers in the euro zone, where the rate turned negative last month. Consumer prices have been falling for almost a year in Switzerland, which has sold francs in international markets since abandoning an exchange-rate cap in January.
Sweden's "upside surprise" in inflation means the Riksbank won't cut rates on Wednesday and will encourage it to tighten the money supply in 2016, according to BNP Paribas SA. The French lender says it's using the options market to bet the krona will climb to 9 per euro by August.
"The Swedish Riksbank won't be able to match the degree of accommodation likely from the ECB indefinitely," Vasilis Koutsaftis, a strategist at BNP in New York, wrote on Oct. 22, after Draghi's QE comments. "As we move into 2016, these efforts are likely to be viewed as increasingly inconsistent with the central bank's broader policy goals."
(An earlier version of this story corrected references to SEB's krona forecast in second, fourth paragraphs.)
Before it's here, it's on the Bloomberg Terminal.
LEARN MORE