Three Trades Primed for a Big Payday After Argentina's Elections
by and
GDP warrants may benefit from Macri policies that boost growth

Shares in utilities, banks and agricultural firms may gain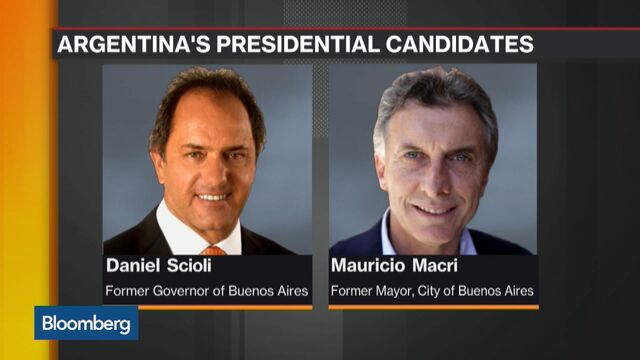 Opposition candidate Mauricio Macri's unexpectedly strong showing in Argentina's presidential election may pave the way for investors to profit from policy changes in the country.
Macri ended up nearly tied with Daniel Scioli, the ruling party candidate who enjoyed front-runner status in the lead-up to the vote. The result is fueling speculation Argentines want to see changes to economic policies implemented by President Cristina Fernandez de Kirchner and her late husband Nestor Kirchner, which have fueled inflation and pushed the country into default. Argentina's bonds due in 2033 jumped to an eight-year high of 108.5 cents on the dollar on Tuesday.
"This might very well be the most positive news coming out of Argentina in perhaps a decade," Rafael Elias, the head of emerging-market strategy at Cantor Fitzgerald, said in a note to clients on Monday. "The momentum is with Macri."
With Argentina's benchmark notes becoming ever more expensive, here are three other investment opportunities spotted by the likes of Exotix Partners LLP, Seaport Global Holdings LLC and Bienville Capital LLC that could pay off handsomely.
1. GDP warrants. The securities, which pay investors when economic growth exceeds a preset threshold, may be poised for further gains because a Macri government is more likely to adopt policies that would stimulate expansion, said Michael Roche, a strategist at Seaport. After hovering near a two-month low as a sluggish economy signaled a payout was unlikely, the price of the warrants jumped to a six-month high on Monday.

"While GDP has been very lackluster until now, warrants are building in a higher probability of a pro-business, pro-growth Argentine administration coming to power," said Roche, who estimates investors could start receiving coupons as early as 2017, four years after the last payment on the securities.
2. Bonds from Argentina's 2001 default that aren't wrapped up in litigation with hedge fund creditors led by billionaire Paul Singer. It's hard to know how much of these securities there are, but specialized brokerages including Exotix say they are a cheap way to make money if the new president decides to reach a settlement with all of Argentina's creditors. Those bonds could be worth as much as 350 cents on the dollar, up from 160 cents now, according to Stuart Culverhouse, an economist at Exotix. 
3. Stocks. Cullen Thompson, the chief investment officer of Bienville Capital LLC, says some of the most profitable investments will be in Argentine utilities, agricultural companies and banks. He cited Pampa Energia SA, a gas transportation firm whose profit margins have been squeezed by price caps and double-digit inflation. He also mentioned Adecoagro SA, an agricultural firm that would benefit from lower taxes and a more competitive currency. Slower inflation and stronger growth may also prompt banks to expand lending, Thompson said. The benchmark Merval stock index jumped 4.4 percent on Monday to the highest in two months.

The best value in Argentine stocks, under either Macri or Scioli, is "in domestically-oriented companies whose profitability has suffered from the distortions within the economy resulting from Cristina's policies," he said by e-mail.
Before it's here, it's on the Bloomberg Terminal.
LEARN MORE