Guys Retire to Hang With Their Wives. And the Wives?
Shocking data reveal she's just not that into him.
By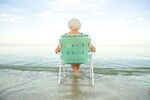 If there were an emoji for retirement, you'd think it'd be those two Adirondack chairs on magazine covers. Maybe it should be one chair, or two chairs spaced a little farther apart.