Greece's Next Aid Infusion Is Matter of Days, Dombrovskis Says
By
Milestones for 2 billion-euro payment don't have firm deadline

Financial sector will be focus of requirements for next slice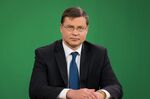 Greece is on track to get a 2 billion-euro ($2.2 billion) payment as soon as it finishes meeting the required conditions, European Commission Vice President Valdis Dombrovskis said.
"We are making good progress as regards to those milestones, so this can be really a matter of coming days," Dombrovskis said in a phone interview from Athens, where he met with Greek authorities to discuss progress on the 86 billion-euro bailout signed in August.
Greece isn't expected to be ready in time for this week's discussion among euro-area finance deputies, scheduled for Thursday. Dombrovskis said there's no set time for disbursing the next slice of money, which can be paid out as soon as Greece makes the necessary progress.
"We are much closer, many milestones are in the process of delivery," Dombrovskis said. Only a "very few milestones" are the subject of in-depth discussions at this point, he said.
Greek bonds fell, with the yield on 10-year debt rising 13 basis points to 7.816 at 11:20 a.m. in Athens. The yield exceeded 13 percent in June before Prime Minister Alexis Tsipras reached a settlement with the country's creditors on financial aid.
Tsipras is now up against tight deadlines to keep his nation's third bailout on track and stave off another round of turmoil over its membership in the currency zone. In approving the rescue plan, euro-area finance ministers set out a detailed schedule of what money can be accessed when.
To start, 3 billion euros must be unlocked -- in two installments -- by the end of November. Milestones for the first 2 billion-euro payment have been set, while the requirements for a further 1 billion euros will be determined later. Any payments after that will be determined by the results of the program's first review, set to wrap up in November.
Financial Milestones
For the 1 billion-euro payment, milestones probably will focus on the financial sector and a decision is due "relatively soon," Dombrovskis said. This will help Greece unlock the funds needed for its banking sector, after the European Central Bank finishes the bank assessment that is expected to conclude this month.
Tsipras is due to send the bank recap bill and the remaining legislation required to access the next tranche of money this week.
Greece has until Nov. 15 to unlock 15 billion euros set aside for bank recapitalization, on top of 10 billion euros of bank funds already sitting in a segregated account at the European Stability Mechanism firewall fund. This money is tied to the first program review, although policy makers have left the door open to separating out financial milestones from that overall review if needed.
Making Progress
Euro-area creditors may consider decoupling the schedule for the banking sector from the rest of the program, Dombrovskis said. At the same time, he said, it's necessary to make progress on all fronts to keep the country's financial system from collapsing again.
"If we want financial stability in Greece, it's important that the program is on track because only then can the bank recapitalization be successful," Dombrovskis said. "Theoretically, imagine we go along with bank recapitalization and eventually abolish the capital controls, which is the aim, and then it turns out that the program is off track -- then we end up in a situation like in the first half of this year."
Greece had to impose restrictions in June after Tsipras's decision to hold a referendum on austerity measures required by creditors, which triggered a bank run and forced the government to shut down lenders for a month.
Dombrovskis expressed confidence that Greek authorities would work with bailout creditors to avoid a similar scenario.
"In discussions with the Greek authorities -- with the prime minister, with the finance minister, with the central bank governor -- there was a clear commitment to work very seriously towards the first review and to make a successful review within the month of November," Dombrovskis said.