Goldman Fund Buying Aussie Banks in Bullish Bet on Dividends
by
Goldman Sachs Asset Management buys during capital raisings

Bank dividends, earnings are sustainable, Katie Hudson says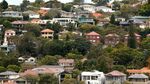 Goldman Sachs Asset Management is even more bullish on Australian bank shares after a slew of capital raisings by the nation's largest lenders dragged stock prices lower.
The money manager, which oversees about A$6 billion ($4.3 billion) in Australian equities, increased holdings in banks amid expectations higher mortgage rates and credit growth can sustain an expansion in earnings and dividends, said Katie Hudson, who is part of the firm's investment team in Melbourne. Stock-price declines among the so-called big four lenders around the time of the capital raisings were overdone, she said.
Westpac Banking Corp., Australia & New Zealand Banking Group Ltd., Commonwealth Bank of Australia and National Australia Bank Ltd. all raised variable mortgage rates this month in part to cover the cost of regulations forcing lenders to hold bigger capital buffers. Bank shares under-performed the broader Australian equity market through the lows in September amid concern the higher capital requirements would lead to lower dividends.
"We have been increasing our weighting toward the banks," Hudson said in an interview in Melbourne. "We took advantage of the capital raisings to increase our positions. We have a positive view on the outlook for the banking sector across credit growth, across provisioning, across margins. You've seen early evidence of that with the mortgage repricing."
Housing Market
The biggest four lenders have added almost A$20 billion in capital this year to meet regulations partly aimed at sheltering them from any downturn in the nation's housing market. Some economists are predicting property prices will fall over the next two years amid increasing supply and lower-than-expected population growth. The higher mortgage rates come into effect next month.
The S&P/ASX 200 Banks Index declined 6.5 percent this year through Monday, compared with a 1.2 percent drop on the S&P/ASX 200 Index, the nation's benchmark equities gauge. Even when including returns from dividends, the banks measure returned 5.8 percentage points less than the broader market.

"What people took out of context was the size" of the raisings, said Hudson, who has worked for the asset management arm of Goldman Sachs since 2008. "These were actually quite modest capital raisings in the context of these businesses. It was the equivalent of about seven months of dividends. So the price reaction and the response was probably overstated relative to how significant these were."
Profit Boost
The mortgage rate increases will boost profit at the four banks by as much as 3 percent and increase net interest margins, the difference between interest earned on loans and paid on deposits, by as much as 5 basis points, Deutsche Bank AG analysts predict.
Commonwealth Bank, ANZ and Westpac comprised the largest chunk of Goldman Sachs' Australian equities fund at the end of September, according to the firm's website. Hudson declined to name the individual companies they were buying, citing company policy not to disclose such details.
Banks make up 30 percent of the S&P/ASX 200 Index compared with just 9.4 percent on the MSCI World Index of developed market shares. Australian bank dividend yields are among the highest in the 99-member MSCI World Bank Index. Westpac will post the largest year-on-year dividend increase, according to Bloomberg forecasts.
"Dividends are likely to rise in line with profit growth," Hudson said. "Dividends today are sustainable."
CBA shares slipped 0.4 percent as of 2:26 p.m. in Sydney and ANZ Bank lost 0.9 percent. Westpac rose 0.5 percent. NAB declined 2.1 percent after agreeing to sell its life-insurance business.
Before it's here, it's on the Bloomberg Terminal.
LEARN MORE