German Jews Warn Merkel That Refugees May Spread Anti-Semitism
by and
Can't solve the crisis by flipping a switch, chancellor says

Merkel sits tight as poll ratings decline to 3-year low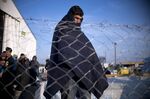 Jewish leaders told German Chancellor Angela Merkel they're concerned that refugees streaming into the country may foment anti-Semitism, underscoring the risk of social conflict as her government struggles to contain the migrant crisis.
Representatives of the Central Council of Jews in Germany said during a meeting with Merkel that many refugees "come from countries in which Israel is viewed as the enemy" and that "these prejudices are often projected onto Jews in general," the chancellor's Christian Democratic Union party said in a statement Tuesday. CDU leaders responded that they would combat anti-Semitism "resolutely."
With Merkel's poll ratings in decline and many members of her governing coalition demanding an end to the refugee influx, the chancellor returned to stock phrases she used during Europe's debt crisis to warn Germans they shouldn't expect a quick solution.
"We can't flip a switch just like that," she said at a news conference in Berlin. "We have to proceed step-by-step."
Europe's biggest refugee crisis since World War II is turning into a political liability for Merkel as Germany expects at least 800,000 arrivals this year, straining state and local governments that need to house and care for them. Merkel is seeking to enlist Turkey and Western Balkan countries to help stop the flow to Germany, though she acknowledged at a town-hall event on Monday that the situation is "anything but perfect."
'Centrifugal Forces'
Support for Merkel's CDU declined to a three-year low of 36 percent, compared with 41.5 percent in the last election in 2013, according to an Emnid poll for Bild am Sonntag newspaper published Sunday. Her approval rating has declined in three consecutive FG Wahlen polls in the last four weeks.
Merkel, a Lutheran pastor's daughter who grew up behind the Iron Curtain in East Germany, insists that Europe can't put up new walls and must welcome war refugees, though economic migrants whose asylum requests are rejected will have to return home.
Anton Boerner, head of Germany's BGA federation of exporting industries, urged Merkel's domestic critics to refrain from undermining her standing.
"The centrifugal forces in the European Union are increasing dramatically and that's a major concern for us," he said in an interview in Berlin. "Merkel is the only politician in Europe who is still somehow able to conduct this concert."
Before it's here, it's on the Bloomberg Terminal.
LEARN MORE