GE Plans $200 Million 'Rocket City' Plants on Jet-Engine Surge
by
Alabama factories are part of effort to expand supply chain

Air Force joins investment in twin facilities in Huntsville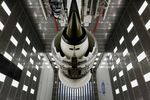 General Electric Co. plans to build two new factories in Alabama's "Rocket City" to produce advanced materials for jet engines as the company prepares for a surge in aircraft output later this decade.
The twin plants will be placed in Huntsville, a city with a long history in aerospace manufacturing, and employ 300 people, GE said Tuesday. GE will invest $200 million alongside funding from the U.S. Air Force for the facilities making ceramic matrix composites, which can withstand the lava-like temperatures inside turbines.
"We're on the way to being 25 to 50 times bigger in supply chain capacity than we were," Sanjay Correa, vice president of GE Aviation's CMC program, said in a call with reporters before the announcement.
GE, the world's largest jet-engine maker, is looking to keep pace with a record order backlog as the new Leap powerplant is deployed on updated Boeing Co. and Airbus Group SE narrow-body planes. It's a critical offering for GE, which is betting on the aviation unit and other industrial operations while shedding consumer-focused and lending businesses.
Advanced Materials
Advanced materials are central to the Leap's promised fuel-efficiency gains. A competing engine made by Pratt & Whitney, a unit of United Technologies Corp., relies on gears to boost performance.
The new factories will work in concert to produce what are known as CMCs -- durable, lightweight materials that can replace heavier metal parts in the turbine's hot section. Temperatures inside a jet engine can reach about 2,400 degrees Fahrenheit (1,315 degrees Celsius).
One of the plants will make silicon carbide ceramic fiber. That facility will receive $21.9 million in funding from the Air Force Research Laboratory's Title III office, GE said, and the Defense Department will be a customer. CMCs will also be used for some gas-turbine parts in GE's power and water business.
The work is sufficiently complex that it made more sense for Fairfield, Connecticut-based GE to build new plants rather than try to outsource production as engine orders mount, Correa said. The Leap is due to enter service in 2016 and reach annual output of as many as 1,800 engines by 2019.
"We have committed so much resource across the company into this stuff that we were going to have to teach other people or do it ourselves," Correa said. For GE, "this is very much past the science experiment and engineering marvel, and it's very much now a production-execution phase."
Before it's here, it's on the Bloomberg Terminal.
LEARN MORE