FIFA Faces Possible Money Laundering Probe From U.K. Prosecutors
by
Serious Fraud Office told lawmakers it's reviewing allegations

SFO dismissed a wider probe of FIFA for lack of jurisdiction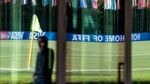 The U.K. Serious Fraud Office is looking into possible money laundering in relation to FIFA, but has largely ruled out a wider probe of soccer's governing body, the agency's director told lawmakers.
"Nothing has emerged so far that provides a U.K. jurisdictional nexus and would merit an SFO investigation," David Green said at a U.K. Parliament hearing in London Tuesday. But "we are still examining issues around possible money laundering" and have received some information recently.
Green disclosed the probe as lawmakers grilled him over the U.K. agency's inaction on corruption at FIFA as at least 14 soccer executives were indicted by the U.S. Swiss prosecutors have since joined the probe, leading to the investigation and suspension of FIFA President Joseph "Sepp" Blatter.
"If the FBI are investigating what they call the World Cup of fraud the SFO seems to be playing in the long leagues here," said Damian Collins, a Conservative lawmaker.
A spokeswoman for FIFA in Zurich didn't immediately respond to a phone call seeking comment.
The SFO, which specializes in white-collar crime cases, looked into events surrounding the bidding process for the 2018 and 2022 World Cups that were awarded to Russia and Qatar. So far, the agency has found no basis to justify a criminal investigation in light of FIFA being based in Switzerland and incorporated under Swiss law, said Green.
"It wouldn't make sense, it seemed to me, to try and break off a small fragment of conduct, if that were possible, just to have an SFO investigation," Green said. But "there's a part of this picture that still remains very much alive" in regards to possible money laundering, he said.
Asked why the agency hadn't done more to assist other countries with their investigations into FIFA, Green said the agency was ready to help, but wasn't going to proactively seek a role in other probes. The SFO first became aware of the U.S. investigation in November 2014, said Green, but was told by U.S. authorities they wouldn't comment on their investigation.
The SFO was handed 1,687 documents by the English Football Association in March, followed by more documents provided in July, and has a team of five people going through them, said Green.
Before it's here, it's on the Bloomberg Terminal.
LEARN MORE