EU Proposals to Address Refugee Budget Impact, Dombrovskis Says
by and
Migration crisis is extraordinary case requiring spending

Dombrovskis speaks in television interview from Athens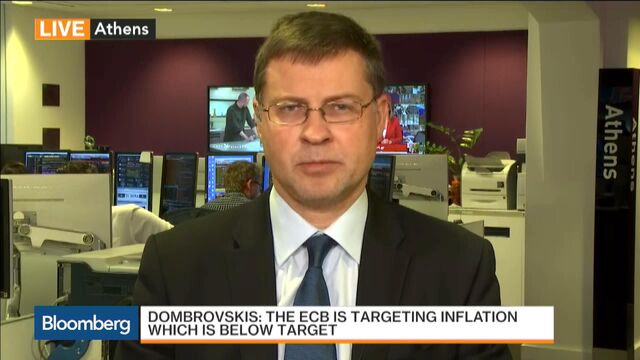 The refugee crisis is an "extraordinary situation" that will require European Union-level solutions to handle extra spending demands, Commission Vice President Valdis Dombrovskis said Tuesday.
The Brussels-based commission is looking at how nations should manage the budget impact and will offer guidance, Dombrovskis said in a television interview from Athens. He said the migration crisis was a part of his discussions with Greek authorities, which also focused on how the country will meet its bailout requirements and generated what he said was a "clear commitment" from the government to meet the terms for unlocking aid.
"Greece and a number of other countries are raising the questions of the budgetary implications of the migrants crisis because it's clearly creating additional expenditure," Dombrovskis said. "We are looking at this and will be coming with a proposal."
The EU is grappling with what to do about the refugees streaming across the bloc's borders, in what Commission President Jean-Claude Juncker called an "uncontrolled flow" leading to "politics of panic." EU leaders on Sunday clashed over how to manage the influx, with winter approaching and more than a million migrants set to arrive this year.
On the budget front, the commission has said it will study calls to loosen its stability and growth pact rules to give countries more leeway where refugees are involved. Pierre Moscovici, the economic affairs commissioner, has said refugee do not appear to generating "one-off additional costs" and emphasized that the EU will consider how to apply existing flexibility where needed.
Germany opposes any move to loosen the rules to allow for special financial burdens from the refugee crisis, Finance Ministry spokesman Martin Jaeger told reporters Oct. 19 in Berlin. Dombrovskis said nations will be able to make their case.
"Clearly we recognize that it is an extraordinary situation and it needs to be taken into account," he said.
Before it's here, it's on the Bloomberg Terminal.
LEARN MORE