Stocks Rise, Aussie Drops With Markets in Central Banks' Thrall
by and
Fed stands pat on rates, hints may still move this year

Small-cap shares post biggest one-day advance of 2015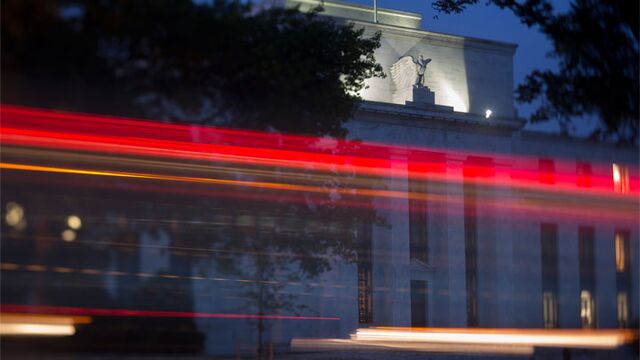 Treasuries tumbled, while the dollar rallied, after the Federal Reserve signaled it remains prepared to raise interest rates as soon as December. U.S. stocks resumed an October rally that has them on pace for the best monthly performance in four years.
Yields on benchmark 10-year Treasury notes rose to 2.10 percent, while two-year rates surged to a one-month high. The Bloomberg Dollar Spot Index erased a loss to climb to its highest intraday level since August. The Standard & Poor's 500 Index reversed declines to end Wednesday higher as bank and energy stocks surged, while small caps capped their biggest one-day rally of the year. Gold retreated, while crude oil rebounded.

"The impression the Fed left is that December is still on the table, they didn't close the door to that," said Russ Koesterich, a global chief investment strategist at BlackRock Inc., the world's largest money manager. "You're going to see some change of positions here, the main takeaway is the Fed is managing their optionality and if we get a few good economic data points then December is possible."
U.S. policy makers left rates unchanged Wednesday, while giving themselves the option to increase borrowing costs at their December meeting by saying growth in America remains "moderate." The Fed removed a line from September's statement saying that global economic and financial developments "may restrain economic activity somewhat." Central banks globally have been maintaining stimulus amid concerns over a China-led slowdown and the impact of last quarter's market volatility.
Equities worldwide have rebounded in October, with U.S. and European stock benchmarks on track for their best months in at least four years as the financial-market turmoil eased and concerns over slowing growth eased somewhat. The European Central Bank has signaled a willingness to bolster bond purchases should the economy require it, while 40 percent of economists predict Japan will boost stimulus at its meeting on Friday.
Stocks
The S&P 500 rose 1.2 percent to 2,090.35 by 4 p.m. in New York, closing at its highest level since Aug. 18. The gauge erased an advance of 0.9 percent immediately after the Fed's decision before a 2.4 percent surge in financial stocks swung it back to gains. The index has jumped 8.9 percent in October, poised for the best month since 2011.
Apple Inc. added 4.1 percent after reporting quarterly profit and revenue that exceeded forecasts. Twitter Inc. fell 1.5 percent after predicting weaker-than-estimated sales growth. Rite-Aid Corp. retreated 7 percent after surging 43 percent on Wednesday before an official announcement that Walgreen Boots Alliance Inc. will buy the drugstore chain.
The Russell 2000 Index of smaller companies surged 2.9 percent for its biggest advance since December. The gauge had been trailing the S&P 500 throughout the October rebound before outperforming Wednesday. It remains down 2.2 percent for the year, compared with a 1.5 percent gain for the S&P 500 in 2015.
Currencies
The Bloomberg Dollar Spot Index jumped 0.6 percent in a second day of gains as traders scrutinized the Fed's statement for clues as to whether they will raise rates at the next gathering. Odds of a December hike climbed to 46.2 percent, from around 32 percent a week ago.
The greenback strengthened against all of its major peers aside from the Canadian and Taiwanese dollars, as well as the Korean won. A Bloomberg index tracking emerging-market currencies dropped for a fourth day, losing 0.1 percent Wednesday.
Bets that Australia will reduce rates further sent that nation's dollar tumbling, while an increase to stimulus in Sweden pushed government bonds higher in Europe.
Bonds
Treasuries extended losses as traders speculated that the Fed's December meeting was now in play. Two-year note yields rose eight basis points, or 0.08 percentage point, to 0.71 percent, their biggest one-day advance since March. Ten-year rates climbed by six basis points.
"December's not only still on the table, it's in the crosshairs as a liftoff date," said Ward McCarthy, chief financial economist at Jefferies Group LLC in New York, one of the 22 primary dealers that trade with the Federal Reserve.
Commodities
Oil climbed the most in eight weeks in New York after a report showed U.S. fuel stockpiles declined amid a pick up in demand. West Texas Intermediate oil surged 6.3 percent to settle at $45.94 a barrel, rebounding from a two-month low in its first gain in four sessions. Brent added 4.8 percent to $49.05.
The Energy Information Administration said gasoline and distillate fuel inventories dropped last week, while fuel consumption increased for a third week.
U.S. natural-gas futures dropped 2.8 percent to $2.033 per million British thermal units in New York, closing at a three-year low. The fuel fell as much as 5.5 percent Tuesday and traded below $2 for the first time since April 2012.
Gold pared gains after the Fed's statement. Higher borrowing costs curb the allure of the precious metal by making it less competitive against assets that pay interest, such as bonds. Bullion futures slipped 0.2 percent to $1,163.20 per ounce. Gold has slumped about 5 percent in the past year as the U.S. economic recovery gained momentum.
Emerging Markets
The MSCI Emerging Markets Index fell 0.3 percent Wednesday, extending losses after the Fed's decision. Demand for developing-nation stocks, bonds and currencies has been buoyed by the U.S.'s near-zero rates as investors seek higher returns among riskier assets.
Chinese shares traded in Hong Kong posted their biggest drop in a month as Tsingtao Brewery Co. and Jiangxi Copper Co. reported lower earnings and UBS Group AG cut its forecast for growth in the world's second-largest economy. The People's Bank of China announced a rate cut last week.

The emerging-markets stocks gauge is still up more than 8 percent in October, set for the biggest monthly gain since January 2012, after the Fed's decision in September to delay a liftoff in rates burnished the appeal of riskier assets.
Before it's here, it's on the Bloomberg Terminal.
LEARN MORE