Valeant CEO's Outsider Roots Spun Market Gold, Until They Didn't
By
'He's a polarizing figure, no question,' Piper's Ansellem says

His unconventional approach came under attack by lawmakers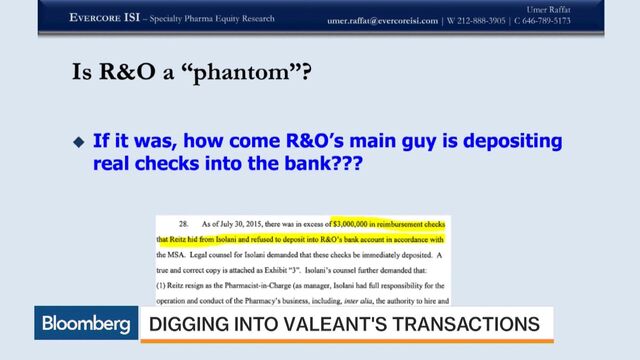 Michael Pearson was practically swaggering, and he had reason.
His audience, heavy-hitting Wall Street investors, had come to hear the man who'd rewritten the rules of Big Pharma -- and, in the process, made a lot of people very rich. At the Waldorf Astoria in Manhattan, Pearson, the driving force behind Valeant Pharmaceuticals International Inc., gave a frank assessment of old-line drug giants and why his company was different. "The world's changing," Pearson told the crowd in May 2014. "And when fundamental change occurs in an industry, it usually comes from the outside, and that's what we've tried to construct Valeant to be."
 

Now the world really has changed -- fast and furiously -- for Valeant and Pearson. In a matter of days, $10.4 billion of market value has been
wiped off one of the hottest drug companies. After spending seven years building Valeant through serial acquisitions, Pearson must now respond to questions about its accounting, pricing and business practices that have sent shivers through the industry and the stock market. He's scheduled to address investors on a call Monday morning, making his first public remarks since a short-seller accused his company of fraud and threw its stock into a tailspin. Valeant denied the allegations.
It's a remarkable turnabout for Pearson, a hard-charging, deal-loving former McKinsey & Co. management consultant. He'd prided himself on his unconventional approach to making money from selling medicine, one that put little emphasis on the laboratory and that sent the stock up 900 percent between June 2010 and September 2015.
Hostile Allergan Bid
The report from Citron Research last week that suggested Valeant might be engaging in Enron-style accounting shenanigans sheared the bloom off, but the business model had been under attack for a while. Pearson's approach grated on peers, who said they felt he didn't respect -- or even understand -- the need to devote resources to research and development in order to find treatments and cures. The tensions surfaced during Valeant's failed hostile takeover bid for Botox maker Allergan Inc.
"He's a polarizing figure, no question," said Piper Jaffray analyst David Amsellem. "The whole Allergan takeover brought up broad questions for the industry: Should Big Pharma be big risk takers or modest risk takers? What does the industry want to be? What should it be?"
Pearson has ardent supporters. Robert Ingram, lead director of Valeant's board, said the company's been a "phenomenal success" and called the chief executive "one of the most proven people I've met in terms of overdelivering in what he commits to." Pearson has unanimous backing from the board, Ingram said in an interview Friday.
The 56-year-old Pearson, who didn't respond to a request for an interview, came to the pharmaceutical business through an unusual route, after 23 years with McKinsey. Unlike Regeneron Pharmaceuticals Inc.'s chief Leonard Schleifer or Biogen Inc.'s head George Scangos, he doesn't have a background in biology. When he took the helm at Valeant in 2008, he had zero experience running a company as CEO.
He's brought McKinsey colleagues in to help -- Valeant's group chairman, chief financial officer and executive vice president of administration are former McKinsey hands, as is board member Ronald Farmer -- and has often said his years at the firm influenced his approach. He was able to see the industry's excesses, he's said, and how it's impossible to have it all as a drugmaker: "No company can attract great scientists, great manufacturers, great commercial people, great everything," he said at the Sanford C. Bernstein Strategic Decisions Conference at the Waldorf.
"Mike's a very non-traditional CEO and his whole mantra is to redefine how things are done," said Umer Raffat, an analyst at Evercore ISI. "He's been very aggressive in having a very lean cost structure."
Money Mattered
In fact, the Quebec-based company's offices in Bridgewater, New Jersey, are in an old Y.M.C.A. building. At one point, some employees were working in what had been a basketball court, the New York Times reported last year. But thriftiness can have a downside, Raffat said. "That lean cost structure means a lean PR strategy -- and they've been crushed by the media."
Even the industry's lobbying group, Pharmaceutical Research and Manufacturers of America, took a shot, saying Valeant is "more reflective of a hedge fund than a biopharmaceutical company."
Laurie Little, a Valeant spokeswoman, said the company has operated differently than many in the business but said its executives believe that "innovation should not be judged by how much you spend, but by the new products that a company is able to bring to market."
A big man with cropped gray hair, Pearson is the largest individual Valeant shareholder, and worth just over $1 billion, according to the Bloomberg Billionaires Index. He was raised in Quebec and Ontario; his father was a Bell Canada phone company employee. "I grew up in a middle-class family and every dollar mattered -- a lot," he said in an interview with Bloomberg News in March. His family saved up so he could study engineering at Duke University in Durham, North Carolina, where he met his wife, Christine. He graduated summa cum laude in 1981, and got an MBA from the University of Virginia.
Then he went to work for McKinsey, where he advised companies in a range of industries including mining, hotels and poultry production. He rose to head of McKinsey's global pharmaceutical practices; Valeant became a client in 2007.
Copy Cats
Pearson got the Valeant job because of his outsider thinking, according to Ingram. A former CEO of Glaxo Wellcome (now GlaxoSmithKline) and a Valeant board member, Ingram had called Pearson at McKinsey to ask for his help with the small drugmaker, then based in California.
The two first met in the mid-1990s when Pearson advised Glaxo. "I found him to be very unassuming, incredibly insightful, a good listener, someone who was tireless," Ingram said. "I sometimes wonder when he sleeps."
Pearson suggested what became his trademark strategy, Ingram said. "Quit throwing resources at early-stage research, focus on one to two areas, dermatology being first, and once we got it on better financial footing, which was done very efficiently, to look at building the business both through organic growth and M&A."
Valeant directors liked the idea so much, they thought Pearson should leave McKinsey. Ingram said that one "told Mike he'd been very successful advising companies, wasn't it about time he owned one?"
The day Pearson became CEO, Valeant had a market cap of $2.1 billion. He made more than 50 acquisitions totaling $34 billion -- including Bausch & Lomb Inc., Medicis Pharmaceutical Corp. and Salix Pharmaceuticals Ltd. -- and accumulated more than $30 billion in debt. Pearson bought older treatments already on the market, often substantially raising their prices. In January 2014, he said he wanted Valeant to be a top 5 pharmaceutical company by 2016. As he spoke, the company's market cap was more than $40 billion, and in the following year it grew, breaking $80 billion in August. Today, it's back to $30.6 billion.
"Now there are a lot of copycats," said Dimitry Khmelnitsky, an analyst at Veritas Investment Research Corp. and a longtime critic of the Valeant business model. But when Pearson started it, "Valeant was unique," he said.
The acquisitive strategy didn't always work out. For eight months in 2014, Pearson and one of Valeant's big shareholders, Pershing Square Capital Management's Bill Ackman, set their sights on Allergan for what would have been the company's biggest deal yet.
Nasty Fight
The fight grew nasty after Allergan rejected multiple offers, saying Valeant undervalued the company. Allergan published e-mails from Morgan Stanley bankers who'd called Valeant a "house of cards" while pitching its defense services; Allergan released the messages after turning down Morgan Stanley -- and after Valeant had hired the bank. Morgan Stanley declined to comment on the e-mails at the time.
Ackman wrote a letter to the Allergan board accusing CEO David Pyott of having a "disabling conflict of interest" because he was worried about losing his job. Allergan sued Valeant and Ackman's hedge fund, claiming an insider-trading scheme, but later dropped the suit.
In the end, Actavis Plc got Allergan, for $66 billion.
"In some respects what he's done is facilitated a discussion that has been long overdue" on the best ways for pharmaceutical company to grow, Amsellem said of Pearson. "The manner in which he's gone about it, frankly, has been a bit scorched-earth for my taste."
Now, Raffat said, Pearson has his work cut out. Job One for Monday's call with investors: "He needs to bring the confidence back, he needs to show that this is really a company with no accounting problems, the numbers should square with the other -- that needs to be tight."