Unshackling $21 Trillion: China's Risky Bid to Reform Banking
Bloomberg News
Scrapping deposit-rate ceiling is milestone for industry

China's banking assets now almost double those of U.S.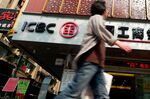 China's lenders are now free to set interest rates for all of the nation's 134 trillion yuan ($21 trillion) of bank deposits. That's the idea, anyway, after the government scrapped the last remaining controls.
The move, effective on Saturday, is a milestone for a commercial banking industry that didn't exist as recently as the early 1980s.
At the same time, there are some large limits on that freedom and on the role of private enterprise. The central bank has been clear that it will intervene if competition for deposits gets out of hand, and the state remains the dominant owner of the banking system.
The latest reform comes against a backdrop of rising bad loans and a slowing economy. The savings-and-loan crisis in the U.S. is among past examples of the risks associated with removing deposit-rate controls.
Here are some of the key events in the development of a Chinese banking industry that now has almost twice the assets of its U.S. counterpart.
* 1984: Commercial banking system starts with the establishment of Industrial & Commercial Bank of China Ltd. People's Bank of China transfers its commercial portfolio to ICBC and becomes the central bank.
* 1995: Loan-to-deposit ratio lets banks lend a maximum of 75 percent of deposits.
* 1999: Bad loans carved out from banks and put in four bad-loan asset managers.
* 2003: China Banking Regulatory Commission established.
* 2004: Nation's biggest bank bailouts announced. Bank of China Ltd. and China Construction Bank Corp. get $45 billion recapitalization; ICBC and Agricultural Bank of China Ltd., the other lenders in the big four, later also get capital injections.
* 2006: ICBC completes what was then the world's biggest initial public offering, in Shanghai and Hong Kong. Today, it's the world's biggest bank by assets.
* 2008: Credit growth explodes as China's government tells lenders to open the floodgates to counter the global financial crisis.
* 2012: Banks allowed to pay interest on yuan deposits of as much as 1.1 times the benchmark deposit rate. Interest-rate controls, including a floor on lending rates that guaranteed banks' margins, later reduced in stages. Then-Premier Wen Jiabao says that the biggest state-owned banks make profits "too easily" and amount to a monopoly that must be broken up.
* 2014: Government approves trial of privately-owned banks.
* 2015: Bank assets stand at about $30 trillion, almost twice the amount in the U.S.  Deposit insurance introduced. Loan-to-deposit limit to be scrapped. In latest move, announced on Friday, rate controls scrapped for deposits of up to one year, a pool of money that analysts at Macquarie Securities Ltd. and Sinolink Securities Co. estimate accounts for at least half of banking industry deposits.